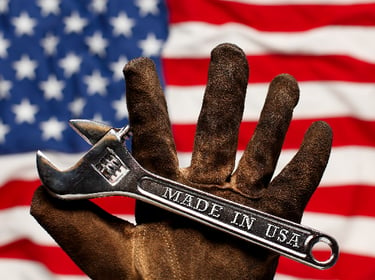 In my last article, I discussed President Biden's January 2021 Executive Order on Ensuring the Future Is Made in All of America by All of America's Workers. Since then, his Buy American vision has grown to be a major part of his administration's economic program.
In April, in a rare bipartisan effort, Sens. Sherrod Brown, D-OH, and Gary Peters, D-MI, joined Sens. Mike Braun, R-IN, and Rob Portman, R-OH, a former U.S. Trade Representative, to sponsor the Build America, Buy America Act. It would expand existing Buy America rules to all taxpayer-funded public works and infrastructure projects. Currently, most federal construction projects have Buy America restrictions only for structural iron and steel. But in highway projects, for example, it is estimated that structural steel accounts for less than 5% of costs. This bill would close some of these loopholes in Biden's January executive order and likely result in the purchase of more American-made goods.
These Senators joined others to introduce another bipartisan bill that will affect importers and exporters—the BuyAmerican.gov Act. This legislation would create a way to monitor what President Biden has characterized as the overuse of waivers by government agencies. Currently, agencies can seek waivers to Buy American laws when American-made goods are unavailable or cost significantly more. However, there is no system to track abuse of these waivers.
Supply Chain Issues
Recently, the administration released the results of its 100-day review of supply chain shortages. This report dealt with current critical shortages affecting crucial products such as semiconductors that have been delaying supply chains in numerous industries, including automotive. Similar shortages have impacted other key industries including advanced batteries needed for electric vehicles and certain pharmaceutical products. The review sought to determine if industries are overly reliant on China and other foreign suppliers.
As a result, the U.S. Department of Energy (DOE) released a new policy that says that all innovations developed through programs like the DOE's Science and Energy Program that involve more than $8 billion dollars must be substantially manufactured in the U.S.
Why are these developments important to our readers? Those who import will find that they and their customers will be increasingly frozen out of the government procurement sector at a time of growing government spending on infrastructure. Exporters are likely to face retaliatory restrictions in foreign markets.
---
Like what you read? Subscribe today to the International Trade Blog to get the latest news and tips for exporters and importers delivered to your inbox.