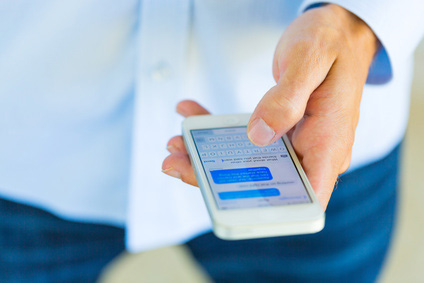 I have an admission to make. I am not cool. There, I said it. After all, I'm an international trade geek. What's cool about that?
While I have Facebook and LinkedIn pages and my own website, I still have not succumbed to tweeting and texting. Yes, I have a smart phone, but it is smarter than I am.
More vexing are the acronyms used while texting. It feels as if I am choking on alphabet soup!
My kids have made me feel like a dinosaur for being so ignorant of the prevailing technology. Text or perish seems to be the mantra of the day.
After stewing about this for awhile I have come to a realization. I have not missed the texting revolution after all. Indeed, I have texted for years. I just didn't realize it.
International Trade Acronyms
Of course, in international trade we don't call it texting, but we do speak in acronyms. Heck, we practically invented the Three Letter Acronym (TLA), forced by the constraints of the telex to be thrifty with the use of language.
Telex was the original Twitter! I am not behind the times. I am bleeding edge! How cool is that?
(I suppose the same could be said for Morse code and the telegraph, but please, allow me my fantasy.)
Even after telex technology was replaced by fax and email we have retained our TLAs, developed a few more and even sprinkled in a few acronyms of differing lengths.
For example, most of you exporters understand that the EAR and the FTR have changed the need for a paper SED and now require you to submit an EEI via AES.
If you understood that you are very cool in my estimation.
---
---
In the import world it gets more interesting as we blend acronyms with the numbers associated with customs forms. Importers, of course, are very concerned when DHS's CBP sends them a 28 referencing a specific 7501 for which they cannot find the 3461 aka the ID. They fear it might eventually result in a 29, and we all know that's not good! But, of course, a well written 19 might just help remedy the situation.
Not to be outdone, the EAR and FTR also reference something called the PPI and then confuse us about whether the FPPI or the USPPI is responsible for issuing a POA to the freight forwarder.
Please, however, don't confuse the export POA with the import POA that the IOR issues to the CHB and is signed by the company's CEO or other corporate officer as detailed under the CFR 19.
On the commercial side of trade we rely on the TLAs of Incoterms 2010 trying to determine if our PO should reference FCA, CPT or DDU terms. That is because we have all been told that FOB is really not a proper term for most of us. We can all thank the ICC for this conundrum.
When it comes to getting paid we need to decide if we will use CIA, CAD or LC among other methods of payment. None of us, however, wants to get a notice of DIP or NSF from our customers or their banks.
The shipping industry has not been left out of the game. SS lines, OTIs, and NVOCCs are all overseen by the FMC as are the HBLs and OBLs that they issue. These, of course, are regulated under the long-standing FBLA as revised under the OSRA. Carriers move cargo by the numbers with vessels measured in TEUs or FEUs. Containers are also referenced as 20's, 40's, HCs or HQs and 45's or more affectionately as cans.
The FAA concerns itself with air shipments having something to say about AWBs whether they be HAWBs or MAWBs. Air freight security is controlled by the TSA, most notably by its CCSP. Not to be outdone by the ocean industry, airfreight is shipped utilizing ULDs.
And, of course, the shipping industry loves using TLAs when creating their invoices. Where would we all be without PSS, BAF, FAF, SS, DDC, CAF and OHC just to name a few? (Would you like fries with that?)
I am feeling rather smug at this point. Although my kids may think me a texting dinosaur and nobody else will comprehend what I say, I know that with readers of this column I can confidently use industry TLAs and be understood.
At least in some people's eyes I still might be cool.
TTYL ;-)
JG
A Glossary of Import-Export Acronyms
B4 we r dun I thawt u wood lik to no wut abuv means. C B-lo
(In order as introduced above.)
TLA - Three Letter Acronym
EAR - Export Administration Regulations
FTR - Foreign Trade Regulations
SED - Shipper's Export Declaration
EEI - Electronic Export Information
AES - Automated Export System
DHS - Department of Homeland Security
CBP - Customs and Border Protection
CBPF - Customs and Border Protection Form
28 - Request for Information
29 - Notice of Action
7501 - Entry Summary
3461 - Entry for Immediate Delivery also known as "ID."
19 - Protest
PPI - Principal Party in Interest
FPPI - Foreign PPI
USPPI - U.S. PPI
POA - Power of Attorney
IOR - Importer of Record
CHB - Customhouse Broker
CEO - Chief Executive Officer
CFR 19 - Code of Federal Regulations 19, Customs Regulations
PO - Purchase Order
FCA - Free Carrier At
CIP - Carriage Insurance Paid to
DDU - Delivered Duty Unpaid
FOB - Free On Board
ICC - International Chamber of Commerce
CIA - Cash In Advance
CAD - Cash Against Documents
LC - Letter of Credit
DIP - Delay In Payment
NSF - Insufficient Funds
SS Line - Steamship Line
OTI - Ocean Transportation Intermediary
NVOCC - Non Vessel Operating Common Carrier
FMC - Federal Maritime Commission
HBL - House Bill of Lading
OBL - Ocean Bill of Lading
FBLA - Federal Bill of Lading Act
OSRA - Ocean Shipping Reform Act
TEU - Twenty Foot Equivalent Units
FEU - Forty Food Equivalent Units
HC/HQ - High Cube Container
FAA - Federal Aviation Administration
AWB - Air Waybill
HAWB - House Air WayBill
MAWB - Master Air Waybill
TSA - Transportation Security Administration
CCSP - Certified Cargo Screening Program
ULD - Unit Load Device
PSS - Peak Season Surcharge
BAF - Bunker Adjustment Fee
FAF - Fuel Adjustment Fee
SS - Security Surcharge
DDC - Destination Delivery Charge
CAF - Currency Adjustment Factor
OHC - Origin Handling Charge
TTYL - Text To You Later
JG - John Goodrich