Most importers, whether knowingly or not, have the records required to meet the letter of the law, at least for the shipments they know about. Many importers, however, seem to overlook the most fundamental of record keeping questions: Do you have import entry records for EVERY entry filed using your company's Employee Identification Number (EIN)?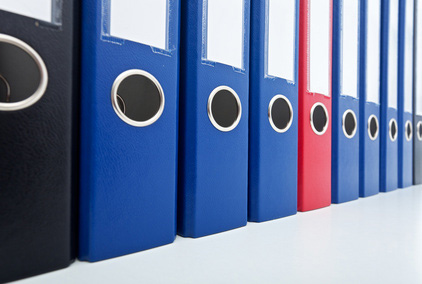 Most importers are keenly aware they must maintain historical records about their import transactions. They are generally aware of the types of documents they need to maintain and might even be familiar with something known as the "(a)(1)(A) list," which details the type and content of records that must be maintained. Most importers are also familiar with the federal regulations requiring them to maintain "… records which are normally kept in the ordinary course of business…"
In reviewing the work of numerous importers I generally find a high level of compliance with record-keeping requirements. Most importers, whether knowingly or not, have the records required to meet the letter of the law, at least for the shipments they know about.
Many importers, however, seem to overlook the most fundamental of record keeping questions: Do you have import entry records for EVERY entry filed using your company's Employee Identification Number (EIN)?
If you answered yes to this question, I applaud you for your confidence but respectfully challenge you to prove it! Unless your company has implemented policies and procedures for periodically reviewing your entry records, it is likely some of your import entries are not documented.
Even if you run a tight ship, logistically speaking, you may still find your EIN is being used without your knowledge. How can this be? Consider the following.
Couriers
Sample and low-value shipments moving via expedited courier networks are most often cleared under the courier's EIN. When higher value and/or dutiable shipments move through such an expedited system, it is common practice for the courier to file the entry using your EIN number. It is also common for the courier not to pass along complete copies of the entry documents you, the importer, are required to maintain.
Vendor Routed or Misrouted Cargo
Try as you might, your cargo simply doesn't always flow through your preferred carrier network. This can lead to an unknown broker filing your entries on your behalf without your knowledge. A typical scenario occurs when a vendor, at their expense, makes a late shipment via airfreight using their freight forwarder. They may have solved one customer service problem but ended up creating another.
Canadian and Mexican Shipments
Yes, Canada and Mexico are foreign countries. Shipments arriving from these countries usually move via truck or rail and feel like domestic transactions to most of us. Because they appear domestic, they are often controlled by a domestic transportation group, which may inadvertently bypass the company's import controls.
Domestically Sourced Foreign Product
You know it came from overseas. In fact, you arranged to pick up the product at the port. Whose responsibility was it to clear customs? Are you sure your vendor's U.S. office cleared the cargo? Perhaps your company was the importer of record and your vendor assisted by managing the process.
Decentralized Corporate Control
If there is more than one office in your company routing cargo, you likely have a record retention challenge. Corporate traffic, the mailroom, corporate compliance and product development may all be sending different messages to your suppliers. Well-intentioned employees within your company, however, may be undermining your import controls by issuing routing instructions and approving powers of attorney without your knowledge.
The above are merely illustrations and are not intended to be an exhaustive list of reasons why your company might be missing some of its import records.
What is the average importer supposed to do to gain control?
The first step is to recognize whether or not your company truly has a problem. This may seem like an insurmountable task but is actually quite simple.
If you are a larger importer who has direct access to the Automated Customs System (ACS) database, you can simply query ACS to review the entries filed under your company's EIN(s).
For the average importer, the more practical solution is to make a Freedom of Information Act (FOIA) request to U.S. Customs asking to see the transaction history for your EIN.
The standard FOIA report you would request is an Importer Transaction Activity (ITRAC) report. Details for applying for an ITRAC report are available on the CBP website.
The ITRAC report will provide you with the following information:
Country of Export

Estimated Tax

Manufacturer

Country of Origin

Exams

Identification

Discrepancy Types

Export Date

Mode of Transport

Entered Value

Filer / Broker

Port of Lading/Unlading

Entry Date

Entry Number

HTS

Number/Description

Related Party Status

Special Program Ind.

Entry Type

Liquidation Date

Ultimate Consignee

Estimated Duty/Rate
The report costs less than $300 and should be available within six to eight weeks. Requests on company letterhead must be directed to:
U.S. Customs and Border Protection
Office of Strategic Trade
Analytical Development Division, Room 901 (Shops)
1300 Pennsylvania Ave. N.W.
Washington, DC 20229
ATTN: FOIA Officer
Or faxed to: (202) 344-1013
Or emailed to: AUTOMATION.SUPPORT.OST@dhs.gov
You'll also find an example of an ITRAC request on the Customs website.
Get Control
Upon reviewing your account data you will be able to compare it with your entry records and identify if you are indeed missing any files. The filer code and the manufacturer ID should indicate who is responsible for filing entries without your knowledge or control.
Control the Powers of Attorney
Customhouse Brokers are not permitted to file entries on behalf of an importer without first obtaining an authentic power of attorney (POA) from that importer. If your ITRAC research indicates you have an unknown broker doing your entries, contact them immediately and ask to see a copy of the POA from your company.
Should the broker possess a valid POA, you must now decide if you wish to continue doing business with that broker under tighter business controls or if you wish to revoke the POA. (Most POAs are indelible, which means they are valid until the importer actively revokes them.)
Should the broker not possess a POA from your company, you must again decide if you wish to do business with them and issue them a valid POA.
After terminating a relationship with a broker and revoking your POA with them, the broker should stop filing your entries. Should the broker continue to file your entries, I strongly encourage you to report that broker to the local Customs Port Director. You will be doing yourself and all reputable brokers a service.
Control the Routing
Controlling your POA is merely a first step. You will also need to develop internal routing controls to ensure your company's preferred broker is nominated on every import shipment. An industry best practice is to ensure written routing instructions are supplied to all suppliers for each shipment.
Control the Terms
If responsibility for customs clearance between your suppliers and your company is unclear and this ambiguity is leading to gaps in your documentation, it is time your purchase orders and contracts resolve this confusion. Best practice is to utilize the International Commercial Terms or INCOTERMS 2000. For those unfamiliar with these terms, you can learn more about them at the International Chamber of Commerce website.
Compliance is Not Optional
Should your company need incentive to implement record retention controls, may I remind you we are dealing with Customs regulations. There is always a downside for non-compliance.
Failure to maintain or produce records can subject your company to two levels of penalties:
Willful or intentional failure to comply subjects your company to a fine not to exceed $100,000 per release or 75% of the appraised value of the merchandise, whichever is lower.
Failure to maintain records due to simple negligence subjects your company to a fine not to exceed $10,000 per release or 40% of the appraised value of the merchandise whichever is lower.
In addition, if missing records relate to goods eligible for reduced or free duty rates, the merchandise shall be liquidated at the full column one rate. For example, a shipment eligible for duty-free status under NAFTA would bear the full duty amount if the NAFTA certificate were unavailable when requested by Customs.
These simple, yet effective penalties should be all the persuasion your company needs to maintain complete and accurate import records.