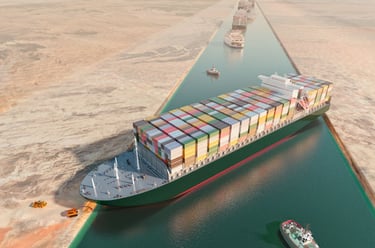 Those of us who are involved in international trade don't need to see pictures of a container ship stuck in the Suez Canal to understand the importance of global trade to the world's economy. We see it every day in the conversations we have with our international vendors and customers, freight forwarders and shipping lines, and customs brokers and customs authorities.
That's why the United States has designated May as World Trade Month every year since 1935. It provides an opportunity to recognize and celebrate the importance of international trade to the U.S. economy as well teach people how to begin and grow their exports.
In honor of World Trade Month, the World Trade Month Association publishes a calendar of events taking place during May. Many of these events are free and most of them give importers and exporters an opportunity to learn more about the various aspects of global trade.
The theme for this year's World Trade Month Association website is "Growing Exports in Uncertain Times," a reflection of the challenges facing companies during a global pandemic, economic volatility and a new U.S. presidential administration. Individuals may register for free on the website to receive notifications of World Trade Month events they may wish to attend.
World Trade Month Kickoff Event
The first event on this year's World Trade Month calendar is an hour-long look at the state of international trade in the U.S. and around the globe. International Trade Snapshot: Past, Present and Future examines how the global pandemic, growing protectionism, soaring shipping rates and a myriad of other problems led to a nearly 10% contraction of global trade in 2020. Writer and economist Helen Mann will also look at what a recovery might look like in 2021 and the challenges that will remain in 2022 and beyond.
This webinar begins at 12 pm EDT | 11 am CDT | 10 am MDT | 9 am PDT and is sponsored by Shipping Solutions and is available free of charge. Click here to register.
Free World Trade Month Webinar Highlights
Every event listed on this year's events calendar is being held online, which means that you can attend webinars and events held by companies, organizations and government agencies across the United States. Most of the webinars included on the website are free to attend. They include:
A series of four webinars on export compliance sponsored by the Minnesota District Export Council in partnership with Shipping Solutions:
Two webinars presented by Aegis Trade Law, LLC:
Three webinars sponsored by Shipping Solutions and NASBITE International:
A webinar presented by Brent Wm. Primus, J.D., Senior Editor of TransportLawTexts:
A series of four webinars on doing business in Canada, sponsored by the U.S. Commercial Service:
There are currently more than four dozen World Trade Month events listed on the events calendar, and more are being added every week. Visit the World Trade Month website for all the details.
Include Your World Trade Month Events
There's still plenty of time to add more international-trade-related events to the World Trade Month calendar. If your organization is sponsoring an import-export event in May, you can add it to the events calendar by completing the registration form on the World Trade Month Association website. All submissions are subject to review and approval by the association. There is no charge for the listing.
---
Like what you read? Subscribe today to the International Trade Blog to get the latest news and tips for exporters and importers delivered to your inbox.