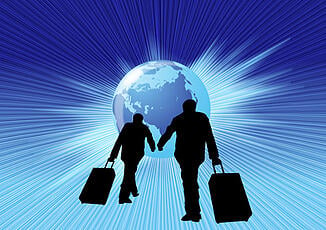 When conducting business on an international basis, most executives find that it is a necessity to properly plan travel abroad to meet with potential and present customers. This allows you to locate and find new customers as well as improve relationships with your present foreign representatives. International business dealings should take place via face-to-face meetings with a client or customer, as this is the best form of business contact.
As you plan any future overseas trip, you need to be cognizant of various business customs, travel conditions, entrance requirements, cultural norms, and services for American citizens in the country of destination.
It is important to have a well-planned itinerary when traveling abroad. This enables the traveler to make the best possible use of time while overseas.
Before beginning your trip, it is important to know who your possible contacts will be and to arrange as many appointments as possible. Then you should check transportation schedules and, if beneficial, reserve or book travel and hotel accommodations. Many times the host in your destination country will be happy to assist with hotel reservations and may also offer to help you with transfers to and from your port of entry. Additionally, you should confirm all meetings and other travel arrangements before leaving the U.S. so there are no unexpected problems once you depart on your trip.
It is also important to keep your schedule and itinerary flexible to allow for both unexpected problems like transportation delays and unexpected opportunities. For example, a flexible schedule might allow you to accept an unscheduled invitation from a prospective client while you are already traveling abroad. You also need to be prepared for a meeting that only becomes confirmed while you are already overseas, since would not make sense to make a second trip the next time around if you can fit the meeting in during the present trip.
Make sure to check on the normal workdays in your countries of travel. This should include a look at a host country calendar for foreign holidays. Bear in mind that business hours in the countries you are planning to visit may also be quite different from the typical 9:00 to 5:00 day that we are use to in the U.S.
The typical workweek may also differ from the usual Monday through Friday. For instance, in many Middle Eastern Arab countries the work week typically runs from Saturday to Thursday. In Israel, however, the work week runs from Sunday to Thursday. In many Latin American countries, lengthy lunches, or siestas, are quite normal, and dinner in these countries does not typically start until 9:00 p.m. at the earliest.
It is also important to know if the people with whom you are meeting overseas are comfortable with the English language. If not, you should arrange to have an interpreter at your meeting since business language can be more technical than conversational speech and misunderstandings are not unusual.
You should have business cards printed up in English as well as in the language of the country being visited. Exchanging business cards during a first meeting with someone is a basic part of proper business etiquette in most countries.
When you receive business cards from contacts overseas make sure not to treat the card as you would in the U.S. and just stick it in your pocket or write on it. This is frowned upon in most other cultures. It is important to accept the card politely (with both hands in Asian countries) and study it carefully before putting the card on the table in front of you during the meeting. Titles such as Doctor or Engineer are also important in many countries, so whenever possible make sure to address your business counterparts with the correct title.
Of course when traveling abroad you should do your best to study the history, culture and customs of the countries you will be visiting. Business methods and manners differ from country to country. A large part of cultural differences in other countries come from religious customs and dietary practices, so be careful to not accidentally show disrespect for another culture's beliefs as this may result in your overseas partner not wanting to do business with you.
Humor and acceptable dress all vary greatly from country to country, so do your homework before you leave home and remember to follow the old adage, "When in Rome do as the Romans." Although your overseas hosts will not expect you to follow the business procedures of the countries you visit, it is still important to maintain flexibility and cultural sensitivity when traveling abroad and conducting international business.
You should also be aware that sometimes your travel from one country to another might be restricted. For example, a passport containing an Israeli stamp or visa may prevent visits to certain other countries in the Middle East. Therefore, make sure that Israeli Customs does not stamp your passport or, better yet, you may legally obtain a second passport from the U.S. Passport Service, which is only for use with Israeli customs.
Make sure to obtain any necessary travel documents or visas at least one month before departure since many visa approvals can take some time. There are expedited travel visa service agencies that can help with this process, and they may be able to obtain visas for you on an expedited basis. Of course, the more quickly you need to obtain such documents the more you will pay for this type of service.
It is also important when traveling abroad to consider seasonal weather conditions and climates in your countries of travel. Likewise there are differences in electrical currents from country to country, and plug adapters may be required to recharge cell phones or use laptops, etc. You should also investigate currency exchange rates, tipping standards (who is tipped and how much, or when not too tip or not to tip too much), and various health care issues during the planning of your trip.
You should think about what is and is not okay to eat or drink while traveling. A good rule of thumb is not to buy food from street vendors and to drink only bottled water. You should ask your doctor about any vaccinations that he or she would recommend, and travelers should be prepared by bringing a sufficient supply of prescription and other medicines with them from home. Be aware that similar over-the-counter medicine may not be available overseas or may not be at the same dosage as what you may be used to at home.
All in all, the key to a successful trip abroad is to make careful preparations and do your homework well in advance of departure. This will ensure that you will be able to best accomplish your business goals abroad. You will also learn a great deal about other cultures and create memorable lifetime experiences and friends through the constant learning experiences of travel abroad.