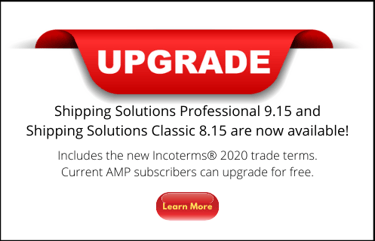 It has only been a couple months since we released a new version of Shipping Solutions, but the release of Incoterms® 2020 Rules necessitated another update. If you are an active Annual Maintenance Program (AMP) subscriber, you can download the update from the AMP website.
Versions 9.15 and 8.15 have fewer changes than most new releases of Shipping Solutions. The major changes are to the Incoterms and the Restricted Party Screening feature. There were also a few minor fixes you might be interested in.
Incoterms 2020
For the past few decades, the International Chamber of Commerce has been releasing a new set of Incoterms every 10 years, which are rules that identify for an international transaction whether the buyer or seller is responsible for the delivery of goods. The Incoterms 2020 rules take effect on January 1, 2020.
Shipping Solutions now displays the Incoterms 2020 rules in addition to the Incoterms 2000 and 2010 rules on the EZ Start tab, Invoices screen. Because each set of rules uses a slightly different group of incoterms (e.g. EXW, FAS, FCA, etc.), when the year is selected from the Incoterm Year drop-down list, the correct set of incoterms is displayed in the Incoterm drop-down box.
For more information about what's new in Incoterms 2020, check out the article, Incoterms 2020: Here's What's New. For a summary of seller and buyer responsibilities under each of the Incoterms 2020 terms, download the free Incoterms 2020 Rules: Chart of Responsibilities and Transfer of Risk.
Restricted Party Screening
If you have Shipping Solutions Professional and use the Export Compliance Module, you may
be excited about this new enhancement to the restricted party screening tool. You can now control which contacts on the EZ Start tab, Contacts screen are actually screened.
Go to the Admin tab, Global Settings screen and click Compliance Settings. Uncheck the box next to any contact type that you don't want to screen. When you run a screening, the results will indicate that the contact was not screened.
This feature can be helpful in certain situations, such as if your company name is always coming up with potential matches that you know are not correct. Instead of showing irrelevant matches on your restricted party screening results, you can just choose not to screen your own company.
Minor Fixes
The Add Contact to Database button on the EZ Start tab, Contacts screen, was giving an error message in certain situations. It should now allow you to enter or modify a contact and copy it back to the Contacts Database right from the EZ Start screen.
The Schedule B Description field will now populate when mapped to or provided with a default value when using the ODBC method with the Data Exchange Manager.
Minor changes have been made to the CARICOM Invoice.
On the Tools tab, Backup Database screen, the backup location is now saved so you won't have to enter it each time you do a backup.
If you have any questions or would like to upgrade to the latest version of Shipping Solutions, give us a call at (651) 905-1727.