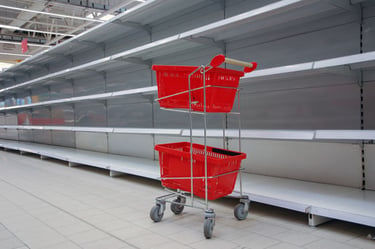 The markets and grocery stores are bare, people are anxious, and business owners are losing sleep because no one is sure what to do next or how to meet demand.
The COVID-19 outbreak has ground many supply chains to a halt and significantly slowed the rest. It's a tough time to try and move forward while also protecting your people and livelihood.
While this all is happening, it's an appropriate time to think about supply chains and see where we can do things differently down the road. Will we be ready for the next black swan event?
There's no clear picture of all the lessons learned so far, but we can use COVID-19 as a starting point to think about larger vulnerabilities and risks. Knowing what may come and where it may come from is the best place to begin your risk mitigation strategy, too.
Review Your Critical Vulnerabilities
Every supply chain has a point where bottlenecks can occur. The supply chain design doesn't always allow for multiple sources of goods and decisions. These disruptions ripple. And, as we've seen with COVID-19, some practices can make things worse.
Supply chains that run super lean and rely on cross-docking to meet orders are facing shortfalls and backlogs that could ultimately cost them business. Business owners or senior managers who have become sick have slowed their company's ability to respond to shortages and other problems if they haven't authorized alternate decision-making authority.
To understand the threats, you'll need to look at the way your supply chain is designed. Do you meet customer demands by simply ordering as you need and relying on single vendor? If so, you've got a major assumption that goods will always be able to flow freely. When that source is cut off, you're stuck.
It's not just during a pandemic that problems can arise. There was the Brexit confusion over the movement of goods, the ongoing trade war between the U.S. and China, major flooding in Thailand years ago, and even factory fires. In fact, factory fires were the most frequent supply chain disrupter in the first half of 2018.
It's time to look at where you're vulnerable and think of ways to address them. From people and processes to partners and dependencies, there's a lot to consider.
Prioritize Protection
When bad things happen, there's a tendency to look first at the financial side of things at the expense of everything else. But remind yourself that nothing in business happens without people. They are always our most valuable resource. Protect your team before all else.
When anything happens, first find out if everyone is alright. If they're not, work to get them treated and taken care of. Even if you're facing a worker or labor strike, take care of your people. It's the right thing to do and it'll help you keep up the right reputation so that people want to work for you, show up on time, and fill any empty roles you have.
The survival and health of your people impact the survival and health of your business. Stay safe.
Build Your Partners List
Build a complete map of your supply chain. Look upstream at your suppliers—not just the companies who send products directly to you, but also the companies that produce goods for your suppliers. Go back as many tiers as you reasonably can.
Look downstream and see who you might be serving multiple tiers away. During any disaster or black swan event, you might need to leapfrog some businesses that are directly impacted in order to keep things running.
Building a partners list helps you understand your risk and exposure. It also helps you expand your ability to respond to a crisis, because you can identify where you might need replacements or support. Acting now means you're looking for alternatives before capacity is gone and you eat into all of your extra stock.
One of the big reasons you map multiple upstream tiers is because having two suppliers for a specific part doesn't protect you much if they're in the same region and depend on the same sources for raw or processed materials.
Floods in Thailand in 2011 shut down around 14,000 factories and led to significant hard drive shortages across all industries. Many supply chains were dependent on this region for help, with no partners outside the region. It wasn't until there was a problem that companies started to look for partners outside of Thailand that could create what they needed.
Whenever possible, you should reach out to partners and find contact information and create lists of what is available to you during a crisis. Ask everyone and share everything including information directly related to your operations as well as large supply chain and economic data when you have it, such as current orders and essential business information for each state.
At Red Stag Fulfillment, we publish a web page that details our current operational status that also notes the operational status of U.S. ports and carriers.
Prepare for Other's Reactions
When a major disaster strikes, everyone reacts. Sometimes, those reactions are going to be the biggest barriers to your operations.
This is true for many e-commerce businesses in the wake of COVID-19. Their operations could be considered essential in many states, so people can continue to go to work. However, depending on their partners, that might not matter much.
Amazon, for instance, responded to the epidemic by prioritizing baby products, health and household items, beauty and personal care including personal care appliances, groceries, industrial and scientific goods, and pet supplies.
When it made that announcement, the company said it would immediately limit what products it will ship and store, halting new orders from suppliers and third-party sellers for anything that it doesn't see as essential. The policy was initially announced for three weeks but could cause many sellers to have to pause listings if their current Amazon stock ran out.
At the end of March, Amazon paused the removal of stock from its warehouses. This means that businesses that rely on Amazon as their main sales channel may also be hit with a one-two punch that locks down inventory and limits future sales, while also making it harder to find a warehouse and fulfillment partner outside of Amazon.
Run Outage Scenarios
It's hard to expect the unexpected in a large and complex supply chain. There are so many things that could go wrong. So, don't plan for every eventuality. Instead, look for the common threads that occur in different outage scenarios.
When there's something as big as the COVID-19 outbreak, everything seems to be impacted. However, there are plenty of regional disruptions, too. Whether it's a trucker strike, earthquake, hurricane, fuel shortage, or something else entirely, some items are more likely to be affected than others. Run outage scenarios to try and predict what these are.
You won't be able to respond to or plan for everything ahead of time, but practice might make some of the recurring issues easier to handle. Plus, you'll be on your toes for when the big things hit.