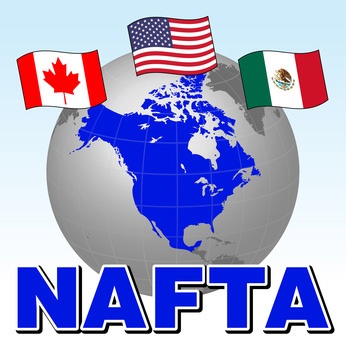 We've all seen them. Either we've drafted them, received them, or rolled our eyes at them. They are the infamous NAFTA solicitation letters we receive from our customers each year.
The first time I heard that solicitation was a part of the NAFTA I blushed. Obviously I had the wrong idea. I've since learned that solicitation refers to letters like the following:
Dear Supplier:
We respectfully request you send us a NAFTA certificate of origin or equivalent manufacturer's affidavit for the following articles we purchase from your company and that you manufacture. See the attached list.
If you are not the producer of these goods, we respectfully request you pass along a NAFTA certificate issued by the producer or an equivalent manufacturer's affidavit from that producer.
The official NAFTA Certificate of Origin, CBP form 434, and its continuation sheet, form 434A, are available from U.S. Customs and Border Protection. The PDF version of these forms is conveniently available within the forms menu at CBP.gov. Instructions for completing the NAFTA Certificate of Origin are printed on the back of the form. An example of an acceptable manufacturer's affidavit form is also attached as an alternative.
A third form is attached, which may be used to inform us of the country of origin of goods that do not originate under the NAFTA. Use this document for goods of any nation including U.S., Canadian and Mexican goods that you know are made in North America but you do not know or cannot prove they meet the higher standard of origination under the NAFTA.
Thanks you for your prompt response and cooperation.
Sincerely Yours,
Very Important Customer
---
Most of the letters I've seen follow some version of the script above. One would think that this would be effective and that, after about 20 years of doing NAFTA, suppliers would be schooled in working with the forms.
But anecdotal experience indicates the state of the NAFTA Producer's Certificate of Origin is in disarray.
One frustrated NAFTA participant inked the following producer's solicitation letter and, in a moment of poor judgment, sent it to all of his domestic suppliers.
---
Dear Ignorant Domestic Supplier:
Against our better judgment we are asking you, once again, to complete a NAFTA certificate of origin, hoping against all hopes that in the past year you might have attended a seminar on the subject and finally have gotten your act together.
We are only doing this because, well, we really need to ensure that our goods meet the NAFTA rules when exporting to Canada and Mexico. This gives us and you a competitive advantage in the marketplace.
If you are still not confident in the method of completing this document, please, please, PLEASE do not guess. The instructions are on the back of the form. When you fill out the document incorrectly it makes you look really, well, uh... stupid. There! It's been said.
---
---
You know how you can tell when your teenager is lying? Well it is the same way with the NAFTA certificate. It is obvious but difficult to explain. A couple of clues for you:
The signature date is the date you sign the document. DUH! It is amazing how many of you appear to come into the office on your New Year's holiday to sign these forms.


Be consistent with your date order. Please don't give me MM/DD/YYYY in one field and DD/MM/YYYY in the next. By the way, this is a U.S. form. I would prefer you use U.S. date order. If you are going to use some other date order, please label the date accordingly.


The first instruction on the back of the certificate says to complete the certificate in full. Please don't leave any fields blank.


If field one "Exporter" and field four "Importer" are confusing to you, we suggest you create a document that looks just like a NAFTA certificate of origin. Label it "Producer's Affidavit." Change field one to "Buyer." Drop field four. Is that easer for you now?


While "A" might be a good grade in school, it is usually the wrong preference criterion on a NAFTA certificate, at least for manufactured goods like yours.


Oh yeah, field nine "Net Cost" is not asking you for the price of your goods.


We purchase 250 items from your company, yet you responded with a single line that says "fasteners, spare parts, bearings and electrodes." You may as well have filled the description field with the word "stuff." Yes, we really do need a separate line declaring NAFTA eligibility for each of the items we purchase from you.
To top this all off, you are completing a federal form. There are legal ramifications for making false NAFTA claims. As the controller of your corporation, you should know this, but you signed it anyway. Yours was the single worst certificate of origin we received from all of our suppliers last year.
Speaking of which, we know you are acting as the distributor for many of the goods we purchase from you. We really would like to get a statement of origin from the underlying producer of the goods. We need this because we export some of your goods as aftermarket parts to our Canadian and Mexican clients. If we do not have a producer's document we have to make a claim of number one in field eight of our exporter's NAFTA certificate. This is a weak statement and is frequently challenged by the destination import authorities. As a result we do not claim NAFTA on these goods. This results in the client paying duty when it probably isn't necessary.
Please, please, please share a copy of the producer's certificate with us. We promise, crisscross applesauce, we will not disintermediate your company and work directly with the producer. We would be happy to put that promise in writing. What? You do not have a producer's NAFTA statement to share with us? Are you crazy? In other words you haven't done your homework, but you were willing to make a false statement on a federal document just to get us off your back? We realize you think you know that the goods originate. NAFTA, however, is not a belief system. It requires documentary evidence that a good qualifies for the program.
And, no, we are not going to dictate to you nor teach you how to complete the certificate of origin. That includes providing HS codes. That is your responsibility.
Please do not interpret our commercial urgency as a threat that you must misrepresent your goods as being North American. We simply need to understand the facts within our supply chain so that we can, in turn, respond confidently and truthfully to our clients.
If you are still confused, we can only recommend that you attend a seminar on the subject. We have found the folks at International Business Training have the best course out there. They present the information in such a way that even your company will understand it. Their instructors are also consultants willing to work directly with your company to implement a NAFTA process.
Finally, please respond to this letter.
Condescendingly Yours,
Your Soon to Be Former Client
---
After receiving such a letter you don't think the producers are going to remain silent, do you? Stay tuned for the producer's response in our next installment.
---
This post was originally published in March 2013 and has been updated to include current information, links and formatting.