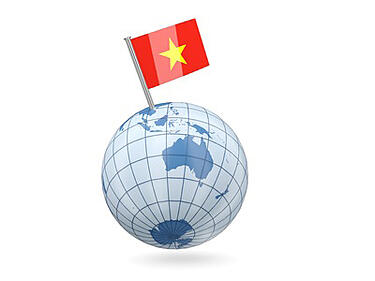 Located on the east side of the Indo-China Peninsula, the Socialist Republic of Viet Nam (Vietnam) is bordered by China, Laos and Cambodia.
It declared independence from France by Ho Chi Minn in 1945. Its current borders were established in 1975 following the merger of North and South Vietnam under communist rule.
With a population of 88.8 million, Vietnam is the 13th most populous country in the world. Most of its people live in the Southeast Asian sub-tropical climate zone.
Its neighbors are China in the north, Laos in the northwest, and Cambodia in the west. Vietnam's coastline of over 2,300 kilometers in the heart of Asia provides easy access to world markets.
Vietnam is a home to three major international airports. Tan Son Nhat is Vietnam's largest transport hub and currently handles 75% of Vietnam's passenger traffic. The country has been rapidly modernizing roads, seaports, airports, and its energy supply including oil refineries and hydroelectric facilities as well as planning for two nuclear power plants.
The agriculture industry today contributes approximately 22% of Vietnam's Gross Domestic Product (GDP) and employs nearly 50% of its workforce. Vietnam is a leading exporter of rice, seafood, coffee, pepper, textiles, footwear and furniture, and it is a major oil producer. It is the world's largest producer of cashew nuts and black pepper.
In 2010, approximately five million tourists visited Vietnam from all corners of the world. Vietnam offers a fascinating history, high culture, scenic panoramas both seaside and countryside, exotic plants and trees, a varying landscape from alpine mountains down to Mekong Delta, Christian churches, Buddhist pagodas, Cham temples, top quality hotels, and restaurants offering good food and service and friendly people.
Vietnam Joins the Global Economy
In a 2012 McKinsey Global Institute report, Vietnam has been one of Asia's economic success stories over the past quarter of a century. After a failed attempt at a socialist collective marketplace that nearly crash of the economy, the communist leadership started a cautious reform toward a market economy in 1980s. In 2007, Vietnam became a member of World Trade Organization (WTO).
Political and economic reforms launched in 1986 have transformed Vietnam from one of the poorest countries in the world with per capita income below $100 to a lower middle-income country within a quarter of century with per capita income of $1,130 by the end of 2010. Even adjusted for real per capita DGP and purchasing power parity, income levels have increased six fold in the past 20 years from $560 in 1988 to approximately $3,354 in 2012. This has lead to a doubling of the size of the middle class over the past five years.
Market liberalization in Vietnam has helped Vietnam become one of the world's fastest growing economies in the region with an annual growth rate of 14.1% between 2007 and 2011. It enabled an economic boom with an average of 7% to 9% annual GDP growth.
Even the recent global financial and economic crisis hit Vietnam less than most countries in Asia. Vietnam's economy recovered strongly in 2009 from the global financial crisis with real GDP growth of 5.3 percent per annum. The ratio of poverty has fallen from 58% in 1993 to 14.5% in 2008
Vietnam ranks among the world's top 15 countries in attracting foreign direct investment (FDI). In 2012, Vietnam recorded a trade surplus of $780 million. Looking forward, Vietnam is expected to achieve stable real GDP growth rate of 7.1% between 2011 and 2015.
Foreign Direct Investment in Vietnam
Foreign direct investment (FDI) in Vietnam was virtually nonexistent a decade ago, according to a report by the U.S. Department of State. However FDI has accounted for 8.3% of GDP during the last five years. Vietnam is on most lists of attractive emerging markets for foreign investors as per Economic Intelligence Unit Survey Reports (2010).
Upon opening its economy in 1986, Vietnam attracted investment and pursued growth based on its low wage rate. Manufacturing and processing attracted the lion's share of FDI, reaching $11.7 billion or 71% of the country's total capital. Much of the FDI flows into Vietnam from more developed Asian countries including Japan, Singapore and South Korea.
---
---
Its exports markets include the EU, USA, ASEAN, Japan, China and South Korea. Industry and construction are the largest sectors for international investment. Some of the segments that have significant FDI inflows in recent years include banks, property and infrastructure. Other strong sectors include oil and gas, fisheries, forestry, transportation, communications, and hotels and tourism.
China remains the most popular destination for foreign direct investment in the world, attracting almost $83 billion in 2012 alone. However, a growing number of multinational companies are pursuing a strategy that is referred to as a China Plus One policy. Companies are using China Plus One to mitigate the risks of over dependence on factories in one country.
Multinationals Enter Vietnam
Vietnam has become a location of choice for multinational corporations to expand their manufacturing capabilities in electronics and semiconductor sectors. Companies such as Intel, Foxconn and Compal have built their largest plants in Vietnam.
In 2012, Vietnam licensed 1,100 new projects and approved 435 existing projects registering to increase capital, bringing the total value of the newly licensed and added capital to $13 billion, equivalent to 84.7% of last year's total.
As of December 2012, the country is home to 14,522 valid foreign invested projects with capital totaling $210 billion. Manufacturing and processing are the most attractive industries to foreign investors. By December 15, 2013, 98 countries and territories had invested in 14,489 Vietnamese projects with a total registered investment capital of $213.6 billion.
Japan was the largest investor in Vietnam, accounting for 13.6% of the total registered capital.
Some of the multinationals who have invested in Vietnam include:
Cannon is no longer building or expanding factories in China, but it is doubling its workforce at a printer factory outside Hanoi to 8000.
Nissan is expanding a vehicle-engineering center.
Bridgestone Corporation, the world's largest tire maker, has established manufacturing in this country.
Hanes Brand, the underwear maker company based in Winston-Salem, North Carolina, and Texhong Textile group from Shanghai are each setting up two new factories in Vietnam.
Anheuser-Busch, Starbucks, KFC, GE, Nike and Intel have all invested in Vietnam.
Several high-tech multinational corporations have established presence in Vietnam including Hewlett-Packard, IBM, Nokia, Samsung and Panasonic.
Nokia is still the dominant player in the Vietnamese mobile market, and Samsung contributes 10 percent of Vietnam's exports.
In year 2012, Samsung invested $11.3 billion in Vietnam and exported $12.5 billion worth of goods. Samsung's plants already provide work for 24,000 people and have created ecosystem of suppliers and subcontractors who employ more than 50,000 people.
Foreign banks have substantial presence in Vietnam, with 50 foreign companies operating via branch offices and five wholly-owned bank subsidiaries.
The Vietnam Value Proposition
Previously China, Hong Kong and Taiwan were known for cheap labor, and many foreign companies chose to manufacture their products in these countries. In addition to a stable political environment, Vietnam today offers the global community a value proposition that is hard to ignore.
---
---
Mineral Resources
Vietnam is richly endowed with mineral wealth, holding some of the world's largest reserves of bauxite (seven percent of world reserves) and tungsten (expected to have seven percent of world production in 2013) and significant deposits of rare earths titanium and iron ore. Other mineral resources include copper, gold, nickel, lead, chromite and manganese. Resources are largely untapped as many remain unexplored.
Vietnam ranks third in Southeast Asia for petroleum resources. Vietnam is endowed with significant deposits of bulk and niche minerals including bauxite, rare earths, titanium, phosphate, coal and iron ore.
With the exception of coal, the majority of current mining projects are small in scope, representing an untapped opportunity for development on a large scale.
While Vietnam's mining industry has been growing at a rapid pace, the industry constitutes only 1.9 percent of Vietnam's GDP in 2010. Ownership for metals and minerals is highly fragmented. Opportunities for multinational corporations are ripe in this sector.
Technology Infrastructure
Vietnam's internet penetration rate of 29% ranks it as the 18th most active internet country in the world. 3G networks are currently available and 4G networks are emerging. From social networks to online gaming and commerce, the population is highly active online with broadband usage growing at 49% per year.
Seventy-five percent of population has mobile phones. This offers opportunities for mobile payments, banking, gaming and other value added services.
Favorable Demographics
Vietnam's demographics and rising income levels support strong continued growth in domestic consumption. With 68% of 92 million residents under the age of 40, the country's expanding workforce is expected to drive consumer spending over the next 10 to 15 years. With a young population entering the workforce, per capita consumer expenditure in Vietnam will continue to grow from 2012 to 2016.
Emerging Middle Class
Vietnam's emerging middle class is a primary driving force in its economy, pre-staging an increasingly affluent lifestyle and high discretionary spending. In 2012, there were eight million people responsible for $48 billion of consumption spending, which accounted for 51% of total private consumption.
The demand for branded goods has been increasing rapidly in Vietnam and has led to the establishment of shops introducing themselves as the authorized distributors in Vietnam.
Middle class in Vietnam is made up of public servants, office employees, intellectuals, skilled craftsmen, traders, and small landowners. The monthly income of the middle class group ranges from approximately $220 to $700 per month.
Based on various studies, the number of people classified as middle class in Vietnam ranges from eight to 18 million people, which accounts for an estimated 20% of the population. Looking at Vietnam's per capita income of $1,600 in 2012, it is difficult for many foreigners to understand how Vietnamese can buy a Louis Vuitton bag or pair of Salvatore Ferragamo shoes for $1,500.
Vietnam's rising middle class exhibits increasing brand consciousness and is growing in numbers and in wealth. The middle class is driving growth; the rising affluence in this group accounts for the expansion in financial services and in basic sectors such as food and beverage, which will continue to account for more than 50% of total consumption. Large supermarkets such as Metro of Germany and Big-C of France are filled on weekends with shoppers buying goods in bulk.
The children of the middle class increasingly eat Western food, use mobile phones and the internet, and enroll at international schools that, until a few years ago, catered almost exclusively to expatriates. Car sales keep growing, although Vietnam is one of the most expensive places in the world to buy a vehicle with import tariffs of up to 90%.
Challenges
Like China, Vietnam's nominally communist one-party system crushes dissent, keeps its military under tight control, and changes government policies and leadership slowly.
While Vietnam offers an attractive environment for investment, the country is not without its drawbacks. In addition to widespread corruption, red tape, and high inflation, Vietnam's infrastructure is still underdeveloped.
Regulatory and Political challenges
In order to retain command and control over the economy, the ruling party uses Vietnam's state-owned enterprises. Mismanagement, corruption, bureaucracy, lack of audit system, and inefficiency are common.
The country has experienced bouts of macroeconomic turbulence in recent years—double-digit inflation, depreciating currency, capital flight, and loss of international reserves—that erodes investor confidence.
---
---
Vietnam is now losing out to countries such as Indonesia in terms of efficiency and value for its money. Inflation is on the rise as the dong currency has weakened, and untrimmed borrowing by the state-owned enterprises has put a strain on the banking system and left banks heavily indebted.
The issues of surging inflation, repeated devaluations of currency, a deteriorating trade balance, and rising interest rates undermine investor confidence in recent times.
Corruption and Bribery
As in many developing countries, corruption remains a problem in Vietnam, which a recent report ranks as the fifth most corrupt country in Asia.
The anti-corruption organization Transparency International ranks Vietnam 116th out of 178 countries in its annual corruption perception index. A survey by the Vietnam Chamber of Commerce and Industry showed that half of business people admitted bribing officials to win contracts.
Intellectual Property Right (IPR) Protection
In Vietnam, the regulatory system to protect intellectual property rights was first put in place in 2005 through the Law on Intellectual Property. However, over the years, inherent deficiencies and administrative loopholes have severely undermined the efficacy of the system and made it difficult for owners of IPR and authorities alike to take action against infringers. Since the enforcement of IPR is low, very few cases make it to the courts.
Many counterfeit products that find a way into Vietnam originate from China. Counterfeiters use this country's warehouses as a great big transit lounge before boarding ships and flights to other destinations. The goods involved are mainly milk, fertilizers, cosmetics, electronic products, copies of DVDs and CDs, vehicle parts, and medicines.
Additionally, Vietnamese private workshops also manufacture counterfeit products and market them as genuine branded products. The prices of these products are relatively high in keeping with recognized global brand name products, but the information about the origin of the products is vague.
Restrictions on Use of Communication Media
Government maintains strong control over media and social movements. The government does not allow independent or privately owned domestic media to operate, and it exerts strict controls over the press and internet. Criminal penalties apply to authors, publications, websites and internet users who disseminate materials that oppose the government, threaten national security, reveal state secrets, or promote reactionary ideas.
For example, since September 2011, all internet service providers in Hanoi have been required to shut down internet transmission at all internet retail providers from 11:00 p.m. to 6:00 a.m.
Skill and Talent Shortage
Limits to Vietnam's talent, both in terms of English and technical talent, will continue to constrain the growth of segments where these skills are critical. A recent survey by Grant Thornton, a global accounting and consulting firm, found that companies are more worried about attracting and retaining critical staff in Vietnam than anywhere else in the world.
Once workers are trained and educated by a multinational corporation they quit and find other jobs. Many young people under the age of 25 are poorly educated and lack professional skills and are, therefore, unemployed.
Distribution and Logistical Problems
Running about 1,000 miles from north to south, Vietnam is primarily a rural country. Distribution of products becomes a challenge and requires innovative strategies.
Transportation is also an area of concern. There is only one national road running from the north to the south. During and after floods the road often cannot be used. The only running railway running from north to south is no substitute. The sea offers a less expensive substitute, but harbor capacity is limited.
Vietnam competitiveness is also under threat because power generation has not kept pace with demand, logistical costs and real estate.
Environmental Constraints
Since Vietnam is located in the tropical monsoon area in Southeast Asia, it is one of the most hazard prone areas in Asia Pacific Region. According to a 2012 World Bank report, major storms, flood events, and other natural hazards result in annual economic losses equivalent to between one and 1.5 percent of gross domestic product (GDP).
Seventy percent of Vietnamese people are estimated to be exposed to risk from multiple hazards, especially in rural communities. Businesses operating in these areas equally affected.
Human Rights Related Issues
The government of Vietnam continues to suppress political dissent and severely limit freedom of expression, association and public assembly. The government of Vietnam continues to expand control over all religious activities, severely restrict independent religious practice, and repress and arrests individuals and religious groups it views as challenging its authority.
According to McKinsey Quarterly's Human Rights Watch Report (2011), Vietnamese courts remain under the firm control of the government and the Vietnam Communist Party and lack independence and impartiality. Vietnamese law continues to authorize arbitrary administrative detention without trial.
Final Words
Despite many challenges identified in this article, Vietnam is still quite attractive to foreign investors.
Vietnam has replaced China and Taiwan as the newest favorite location of companies setting up overseas operations owing to open economic policies, geographical position, political and economic stability, abundant and cheap labor, and huge consumer market.
Opportunities and challenges identified in these articles will help the potential investors and exporters to formulate appropriate investment and risk management strategies to achieve their respective goals.