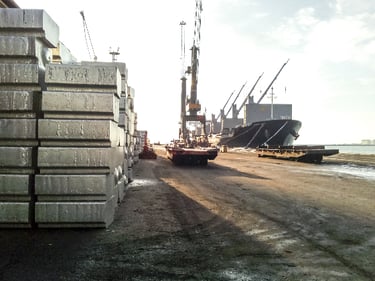 Announced during the G-20 summit in Rome, European Union (EU) and United States negotiators reached an agreement over the long-standing issue of Section 232 tariffs on EU exports of steel (25%) and aluminum (10%) to the US.
Originally limited to "mill" products when imposed in 2018 by President Trump, the tariffs were later expanded to cover "derivative" products such as nails and wire.
Background
The 2018 tariffs were imposed on many countries under Section 232 of the Trade Expansion Act of 1962, referred to as the National Security Clause because it provides for imposition of additional tariffs and/or quotas if imports are found to threaten national security. Doubts were expressed at the time as to whether there was a legitimate threat to national security, particularly from the EU, a NATO ally. However, the Department of Commerce made an affirmative finding.
President Trump did initially exclude four countries: Australia, Argentina, Brazil and South Korea. All of these countries except Australia had to agree to quantitative limitation (quotas) on their exports to the U.S. in exchange for the exemption.
Mexico and Canada were later exempted as part of the negotiations of the United States-Mexico-Canada Agreement (USMCA).
Why Now?
The timing of the recent resolution of the dispute between the U.S. and EU has several dimensions. The announcement during the G-20 summit was interpreted by some as proof of President Biden's pledge to improve relations with European allies. A more practical interpretation was that the EU was set to impose retaliatory duties on many U.S. products on December 1, 2021. These included U.S. whisky and large motorcycles exported by Harley Davidson and involved considerable lobbying by these groups and others.
How It Will Work
The new agreement takes effect Jan. 1, 2022, and will substitute what are known as tariff rate quotas (TRQs) for straight duties. Each EU country will receive a quota allocation based on historical levels and can export free of Section 232 duties up to its TRQ allotment, after which the full duties are applied. EU exporting companies will need to get allocations from their country. The initial overall quota is reported to be 3.3 million tons.
Individual Product Exclusions Continue
Since the Section 232 tariffs were announced in 2018, the U.S. has permitted exclusions of individual products that are not available in the U.S. This includes products that are unavailable in sufficient quantities or do not meet delivery schedules or specs. Applications need to be submitted to the Department of Commerce. This process is still open.
I have submitted hundreds of these applications. Exclusions may be partially retroactive and last for an initial period of one year, which may then be extended for an additional year. Excluded products do not count against the EU TRQs. Also, derivative products are not subject to the TRQs.
There are some indications that deals similar to the one with the EU are being discussed with other countries, such as India and Japan.
---
Like what you read? Subscribe today to the International Trade Blog to get the latest news and tips for exporters and importers delivered to your inbox.