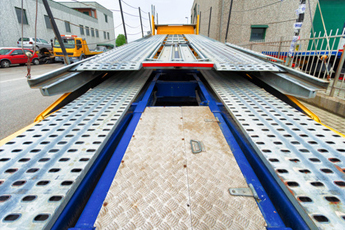 Have you ever wondered how automobile manufacturers and private individuals export automobiles from the United States? The guidelines for exporting cars are somewhat complex, but if you follow the guidelines presented in this article, you will have a general understanding of how it works.

In recent years, the automotive industry has been aggressively seeking ways to reduce the cost of automobile production. As part of those cost reductions, manufacturers are producing automotive parts in other nations and then importing and assembling them in the United States. Once assembled, some of the automobiles are exported to Canada and/or Mexico.
In order to export those cars from the United States, there are certain guidelines that must be adhered to in order to remain compliant. Most importantly, an exporter must demonstrate proof of ownership. In most instances, U.S. Customs Inspectors will accept a manufacturer's statement of origin or a private individual's certificate of title as sufficient proof of ownership.
Before anyone can export an automobile from the United States, they must first notify the applicable port at least 72 hours in advance of the time of exportation. A U.S. Customs Inspector will then examine the automobile as well as the proof of ownership documentation to verify the documentation is accurate and the automobile being exported is the one stated in the documentation.
Exporting Automobiles with a Lien
It is a bit more difficult to export a car from the United States to Canada if you still have an outstanding balance on an auto loan. The easiest option is to simply pay off the auto loan and obtain a lien release for the title to the automobile.
You may also consider refinancing your auto loan with a qualified financial institution in Canada; however, you must make sure that you have the applicable proof of ownership documentation, i.e. certificate of title and lien release, in order to legally export the automobile from the United States.
Your most complex option is to obtain a letter of permission from the lien holder for the export. To use this option, the letter of permission must be on corporate letterhead and signed by an official with the authority to sign for the institution that has placed the lien on the automobile in question. In addition, you must provide a certified screen print of the title and registration information pertaining to the automobile in question. This information is available from the Department of Motor Vehicles (DMV) or Secretary of State office in the state in which the vehicle is registered.
For more information on exporting to Canada, read this article Exporting to Canada: Steps to Smooth the Customs Process.