Free Webinar:
Ask Me Anything:
Applying De Minimis Rules

to Importing and Exporting
Even if you're not shipping from the U.S., your product could be subject to U.S. export controls. Ask an expert YOUR questions about de minimis rules.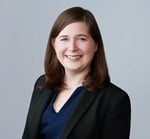 Are you involved in international trade and find yourself dealing with products manufactured outside of the United States? It's essential to understand that even if your product is entirely manufactured overseas, it may still be subject to U.S. export controls. The complexity arises when your bill of materials includes U.S.-origin components or relies heavily on U.S. assembly line or manufacturing expertise.
Understanding the intricacies of U.S. export controls and de minimis rules is crucial to ensure compliance and avoid potential penalties or delays. We're here to help you navigate this complex landscape, with a free, one-hour Ask Me Anything (AMA) session.
Joining us for this webinar is Lindsay Bernsen Wardlaw. Lindsay is a non-practicing international trade attorney and former trade compliance manager with extensive experience developing export controls, sanctions, antiboycott and customs compliance programs. She is currently the Vice President of Trade Advisory Services for Amalie Trade Compliance Consulting, a boutique consulting firm that focuses on practical and sustainable compliance solutions and services that create business efficiencies while mitigating compliance risks.
Who Should Attend:
Company owners and executives.
Anyone responsible for import or export operations.
Management.
Trade compliance specialists.
International/global logistics personnel.
Directors of global distribution.
Like what you see? Share Shipping Solutions now.
Watch the Webinar