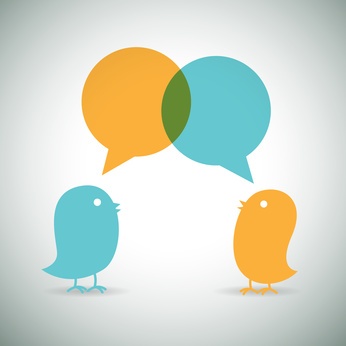 Isn't it remarkable how social media has enriched our professional lives? From the comfort of our desk chair, we can find new customers, learn from experts, keep current on industry trends, and network with other exporters.
I've shared with you my essential LinkedIn groups for exporters, and now I want to let you know about several of my favorite Twitter accounts to follow. I've identified (in alphabetical order) the top 11 export thought leaders you should follow on Twitter. Their tweets offer insightful, practical ways to improve your export knowledge, learn more about export regulations, and stay up-to-date with trade initiatives.
Becky Park DeStigter is an adviser, international entrepreneur, and works as a growth hacker for @AppointmentPlus online scheduling software. DeStigter regularly speaks at regional and national events on issues that hold companies back from reaching their international potential. In addition to Twitter, she is active on her blog, The International Entrepreneur, and has written for the International Trade Blog.
2. Department of Homeland Security
@DHSGov
The Department of Homeland Security's Twitter feed is one all exporters should follow. The DHS uses their account to tweet out news and must-know information about national security, emergency response, and cybersecurity.
The Twitter account of Export-Import Bank of the United States (Ex-Im Bank) keeps exporters up-to-date with tweets about news, statistics and information pertinent to finance tools and programs available. It is also a way for U.S. exporters to learn more about programs that can strengthen their competitiveness abroad.
The Export.Gov Twitter account is a subset of export.gov, the official export promotion site of the U.S. Government. These tweets help U.S. companies export by providing valuable trade-related material and updated information about current trade programs, regulations, and opportunities.
5. International Trade Administration @TradeGov
The International Trade Administration (ITA) tweets out great information and resources for export promotion, industry competitiveness, #trade, and investment information. For exporters looking for daily trade news and interesting commentary, the ITA Twitter account is a must-follow.
Logistics News is an independent source for news related to transport, shipping, trucking, and logistics. The account is updated daily with export logistics news from around the world.

Ed Marsh is the founder of Consilium Global Business Advisors, a B2B sales consulting firm which, under his direction, maps and executes revenue growth initiatives for manufacturers based on effective digital marketing and profitable global sales expansion. Marsh's Twitter account is a must-read; his insightful marketing strategies and practical tips are useful to all exporters.
8. Washington International Trade Association
@WITA_DC
Washington International Trade Association (WITA) is the largest non-profit, non-partisan organization dedicated to providing a neutral forum for open, robust discussion of international trade and economic issues. WITA, located in the nation's capital, is the premier trade forum for promoting trade-related dialogue, from D.C. to around the world.
The IP Exporter Twitter account is a social extension of the IP Exporter blog of Ironmark Law Group, PLLC Attorney Lucas S. Michels. Michels's interesting tweets are a compilation of information and commentary about cross-border and trade-related intellectual property issues. He is a must-follow for any exporter who deals with intellectual property.
10. U.S. Customs & Border Protection
@CustomsBorder
The U.S. Customs & Border Protection Twitter account is a social extension of the agency's mission to secure U.S. borders and facilitate lawful international travel and trade. Exporters may find the discussion, commentary and news updates helpful in staying current with regulations and legislation.
11. Commercial Service & U.S. Export Assistance Centers
Special mention: Exporters should take a look at all the Commercial Service and U.S. Export Assistance Centers (USEAC) offices located around the country, many of whom have accounts (some of which are much more active on Twitter than others). Check out the links above to find and follow your local office, so you can make sure you're staying up-to-date with trade and export happenings in your area.
Exporters, is your Twitter account invaluable?
I know I've barely scratched the surface of the great trade, export, and compliance-related thought leaders on Twitter. Tweet me @DavidMarkNoah if you have suggestions about who should be featured in an upcoming article.