Free Download:
Don't Let This Happen To
You
Think you shouldn't be worried about compliance because your company is "too small to be noticed?" Think you don't ship items that will get you in trouble? Think again.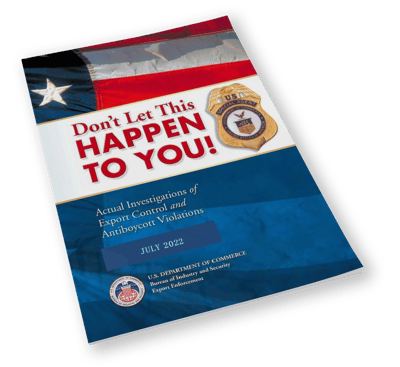 Get an introduction to U.S. export control rules and regulations by learning from real government investigations of export control and antiboycott violations and their consequences.
Many exporters believe that, because they're not shipping guns, weapons or biological substances, they're excused from export compliance. But in reality, certain items that were created for commercial purposes, non-military purposes, can be classified as dual use because they can be adapted into something more destructive.
Or companies think that because they've been shipping to the same customers for many years they don't need to worry. But export regulations do change and foreign companies and individuals get added to the U.S. bad-guy lists all the time.
In this whitepaper, you'll learn:
How to exercise your due diligence in meeting export control responsibilities.
The financial and legal penalties of real people and companies of all sizes who violated export regulations.
Resources that can help you make sure your company is in compliance with regulations.
Make sure you're not making a potentially costly mistake.
Download this free whitepaper now.
Like what you see? Share Shipping Solutions now.
Download Now