Free Download:
Global Strategy:
Identifying Global Strategic Players
There are two primary ways you can grow your company's international sales.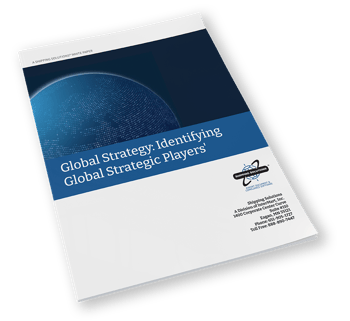 The first way is to passively wait for potential new customers to reach out to you, ask for information about your products or services, and hopefully—one day—place an order. This way is easy because it doesn't require much effort and it doesn't yield very many positive results.
The second way to grow your exports is to invest some time identifying strategic buyers of your products or services, market segments that use your goods, countries that have a need for what you sell, and global companies that you will compete against. While this way requires more work, it can generate significant, consistent growth that can help take your company to the next level of revenues and profits.
With an ongoing process in place to collect, track and analyze information related to your industry's global strategic players, company leaders will be positioned to move forward with strategies that might not otherwise be considered. This guide will give you the tools to put that kind of process into action.
Download the free white paper today to identify the criteria you should use to identify strategic buyers, markets, countries and competitors and to build useful profiles of each so you know where and how to focus your efforts.
Like what you see? Share Shipping Solutions now.
Download Now