Free Download:
Proforma Invoice Sample
Download this sample of the Proforma Invoice so you can see how to fill it out.
About the Proforma Invoice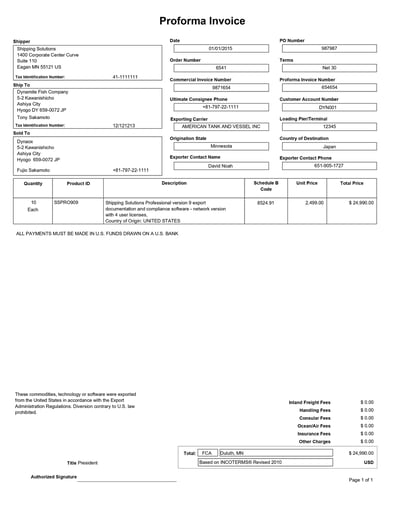 A proforma invoice is a quotation prepared to resemble a commercial invoice. It is used to arrange a letter of credit to pay for the goods or, if needed, to arrange financing for the purchase. If done correctly, and if an order results, the final commercial invoice will closely resemble the proforma invoice.
Tips for Using the Proforma Invoice
A proforma invoice will likely be the first document you create in your exporting process.

The proforma invoice is not required documentation—but it is very useful when quoting letter of credit payment terms.

By correctly completing your proforma invoice and making sure details like sales terms, product descriptions, and pricing are clear,

you can avoid making costly changes

.

A proforma invoice should be valid for a specific period. A reasonable time should be allowed for the buyer to respond, after which the proforma invoice is no longer valid.
Reduce the time it takes to complete the Proforma Invoice and your other export forms by up to 80%. Shipping Solutions export documentation software makes it easy to create more than two dozen standard export forms. Register now for a free demo. There's absolutely no obligation.
Like what you see? Share Shipping Solutions now.
Download Now