Free Download:
Sample
SLI in NCBFAA

Format
Not sure how to complete a Shipper's Letter of Instruction (SLI) in the NCBFAA format? This PDF form includes sample data, so you can see what a completed document should look like.
About the SLI in NCBFAA Format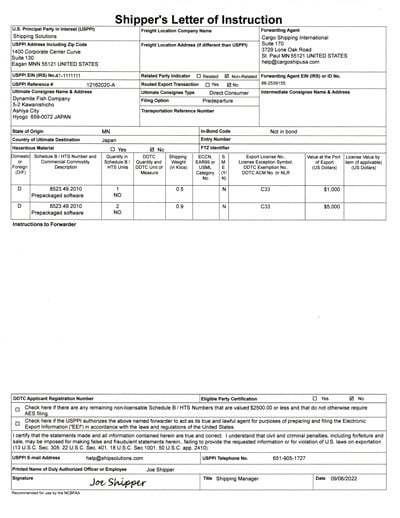 A standard Shipper's Letter of Instruction provides transportation and documentation instructions to a freight forwarder, but it does not typically include specific line-item level product information that would allow the forwarder to file through the Automated Export System (AES). The National Customs Broker & Forwarders Association of America (NCBFAA) has issued a model SLI that includes the level of detail required to file through AES including the additional data fields required by changes to the Foreign Trade Regulations that went into effect in April 2014.
Click here to download a blank Shipper's Letter of Instruction form in NCBFAA format
Reduce the time it takes to complete the SLI in NCBFAA Format and your other export forms by up to 80%. Shipping Solutions export documentation software makes it easy to create more than two dozen standard export forms. Register now for a free demo. There's absolutely no obligation.
Like what you see? Share Shipping Solutions now.
Download Now