Free Download:
How to Create and Implement an
Export Compliance Program
You might think your company has the proper procedures in place for your export shipments, but are you really sure?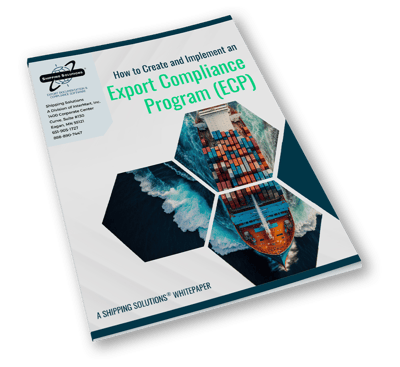 If you haven't written down your company's export procedures and you're not documenting that they're being followed, chances are that something is slipping through the cracks. That could be costing your company money and make it liable for stiff fines and harsh penalties for unauthorized exports.
A written Export Compliance Program (ECP) combined with proper training and review will not only make your export process more efficient, it will help ensure that your shipments don't violate any export regulations.
In this whitepaper, you'll learn:
Why an Export Compliance Program is essential to your company.
The nine elements of a strong Export Compliance Program.
Where you can get assistance creating an Export Compliance Program and find out more about export compliance.
With a strong ECP in place, it's less likely that your company will violate export regulations, and you'll be prepared for an audit. But even if you do inadvertently violate regulations, if you can show that you're following an export compliance program, BIS considers that a strong mitigating factor when determining penalties.
Be prepared. Download this free whitepaper now.
Like what you see? Share Shipping Solutions now.
Download Now