Free Webinar:
Ask Me Anything:
Building a Champions Network

for Trade Compliance
Champions networks are a great way to build compliant cultures and engage employees. Ask an expert YOUR questions about champions networks.
Wednesday, November 1, at 1 pm EDT | 12pm CDT | 11am MDT | 10am PDT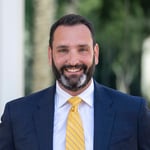 The U.S. Department of Justice endorses the value of champions networks in building and enforcing compliant organizational cultures. Champions networks can focus on a range of compliance areas, including global trade. While many companies are now following the trend of building trade-compliance champions networks, there is little guidance available to effectively design and implement successful networks.
In this one-hour Ask Me Anything (AMA) session, we explore a blueprint for building a successful trade-compliance champions network. Topics to be discussed include how to:
Gain leadership support for the network
Develop the network structure
Recruit champions
Train champions
Implement the network
Develop metrics that demonstrate success
Joining us to answer YOUR questions during this webinar is Matthew Silverman. Matt is the Global Trade Director and Senior Counsel at VIAVI Solutions in Chandler, Arizona. Prior to joining VIAVI Solutions, Matt held trade compliance roles in the technology, aerospace and energy industries, with specialization in export controls, economic sanctions, antiboycott law and customs. Matt is the CEO of The Blueprint Organization, a consulting firm dedicated to building champions networks. Matt is also the author of the book The Champions Network: A Blueprint to Expand Your Influence and Spread Big Ideas in Any Organization.
Who Should Attend:
Any trade-compliance professional, including executives, directors, managers and specialists with an interest in building a successful champions network.
Like what you see? Share Shipping Solutions now.
Register for the Webinar