Passages Premium
Here are the latest resources to help you along your international journey. Bookmark this page and come back often as we are regularly adding new content.
Upcoming Live Events
As a Passages Premium subscriber, you get priority access to live webinars. Access is always free to Premium members.
Wed., October 18, 2023, 1:00 P.M. EDT
In today's interconnected world, global business opportunities are endless, but so are the compliance challenges. One critical element of global trade compliance is understanding and complying with regulations related to transactions with Foreign Governments and Foreign Government Owned Entities. These regulations can differ significantly from normal business practices you may follow when selling or entering into an agreement in the global marketplace.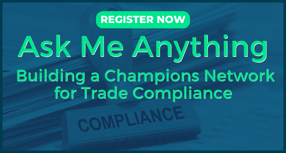 Wed., November 1, 2023, 1:00 P.M. EDT
The U.S. Department of Justice endorses the value of champions networks in building and enforcing compliant organizational cultures. Champions networks can focus on a range of compliance areas, including global trade. While many companies are now following the trend of building trade-compliance champions networks, there is little guidance available to effectively design and implement successful networks.
International Trade Briefings
Each month we give you a quick update of what's new in international trade that may impact importers and exporters.
A Deeper Look
There's always something new being written about international trade, but sometimes we want to know more. A Deeper Look asks follow-up questions with writers of some of the most interesting articles.
AMA: Ask Me Anything
Here's where we turn the traditional webinar on its head. Instead of listening to a 55-minute presentation that only leaves five minutes for questions, we let our Premium subscribers spend most of an hour asking government officials and industry experts their questions on a particular topic.
Webinars
As a Passages Premium subscriber, you get free access to our library of international trade webinar recordings.