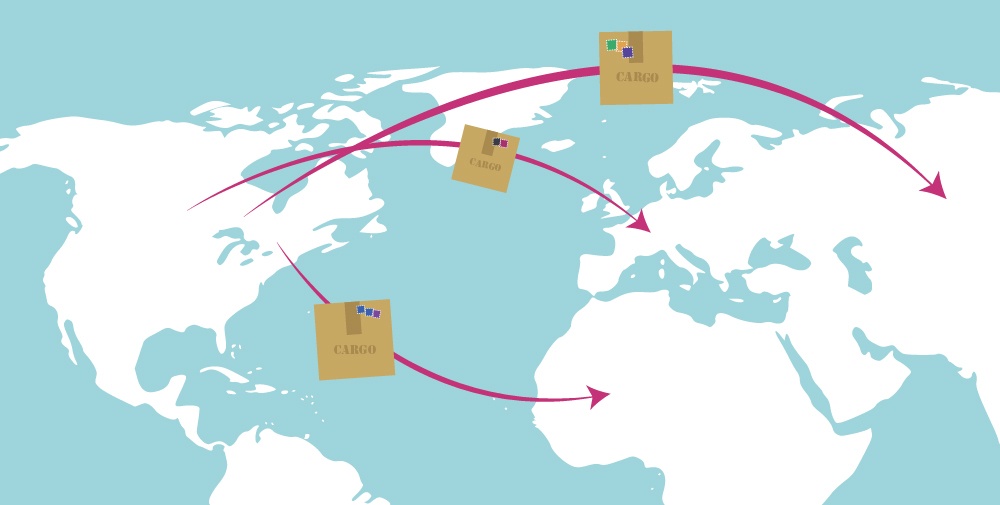 It's important to understand the definition of an export. Why? Exports are subject to the various U.S. export regulations that govern the movement of goods, and you can face substantial penalties for violating those regulations.
People are sometimes surprised by how broadly the term applies.
An export is any movement of items outside the country. That includes items sent by regular mail or hand carried on an airplane; documents transmitted by fax; software or specifications downloaded from the internet; and technology transmitted by email or shared in a phone conversation.
An item is also considered an export if it is leaving the U.S. temporarily, or if it is being returned to a foreign country. Finally, releasing technology or data to a foreign national located in the U.S. is also "deemed" to be an export.
As you can see, you can be an exporter of a wide variety of items—physical, electronic or even just information. Regardless of what you are exporting, your success depends on creating export procedures tailored to your company that ensure you follow the rules and best practices that will help you maximize your profits and keep you out of trouble.


1. Develop Your Export Strategy
Identify products to sell.
If you have a product that is selling well in the United States, it's not unusual to attempt to sell that same product or products in other markets as well. After all, 95% of the world's consumers are located outside the U.S. And many areas of the world, like Asia, have a rapidly growing middle class.
But limiting your exporting to only your fastest selling products in the U.S. may be limiting your export potential. Products that may face growing competition in the U.S. or products that are becoming outdated in this country could find new life in other markets that don't have similar competition or need the very latest technology.
Identifying which products you end up exporting depends a great deal on the markets you choose to sell to.
Identify markets to sell to.
Before you can sell and export your products, you need to find people to buy them. Maybe you are already receiving inquiries from certain potential customers in certain countries. Maybe you've self-identified logical new markets for your goods.
In either case, you need to spend time learning about these potential new markets. This includes identifying the market potential, learning how to properly (and legally) export your products or services to that market, identifying sales channels, and more. Do your research to determine what kind of modifications you may need to make to your product for this market, what the import duty rates are, and whether or not there are any U.S. export restrictions.
Make sure you understand the risk factors in potential new markets. All countries have various levels of risk associated with them. Fortunately, there are many free tools available on the web to make that assessment. Download the free white paper that explains this process: Evaluating Export Markets: Assessing Country and Customer Risks.
Your local U.S. Commercial Service office can help with all this market research. You can either visit them in a local office, or you can check out the country guides on the International Trade Administration website.
Identify your strategy for selling.
You can sell directly to end users. If you choose to sell directly to end users, your company is responsible for all aspects of the transaction—shipping, payment, product servicing, etc.—unless you make other arrangements.
If you don't anticipate and include these costs upfront, you may end up with less profit than you were hoping for. A Basic Guide to Exporting has helpful information about planning for direct sales, as well as government agencies that can assist you.
You can sell to distributors who purchase goods from you (often at a discount) and resell them for a profit. When working with a foreign distributor, expect to have fewer responsibilities for support and service; the distributor will take care of these aspects, which can be challenging for new exporters. As mentioned above, the U.S. Commercial Service can help you find and select distributors who are reputable and advise you in beginning steps.
You can establish partnerships with local companies. Partners represent a step up from a distributor relationship. In this case, you may find an existing company in your intended foreign market that has a distribution and support system already in place. Partnering with such a company can make entering a new market easier and lessen the cost and pain of setting up infrastructure in another country.
Identify how you will support your products.
In addition to figuring out what you're selling, where you're selling it, and how you plan to sell, you're responsible for planning and implementing the care you provide after the sale. That includes determining how you will support your products—a critical factor if you want to be a successful exporter with a good reputation. Things to consider include:
Service

Technical support

Warranties

Returns
International trade makes it more difficult and costly to service, repair or replace damaged goods or items. There are two primary options for providing this support:
Require the buyer to return the product. This is an expensive option. It is also inconvenient for the foreign buyer, who is then saddled with high shipping costs and doesn't get to use your product for an extended amount of time. For more information about facilitating this process, read Repaired Goods: Import and Re-Export.

Figure out a way to service your product locally. This is a cost-effective, time-saving option for most exporters. You can hire existing local service facilities or create an office to provide service in-country.
How you handle your service and support could make or break your reputation. Take the time to plan for this in advance, so you don't waste customers' time and try their patience once your export transactions are underway.
Identify any intellectual property concerns.
Many exporters don't realize the importance of protecting and enforcing their intellectual property (IP). When you export, you don't get the benefit of rights granted in the U.S. by patents, trademarks, registrations, copyrights, et al. In a foreign country, these protections may mean little, if anything. (If you don't know much about intellectual property protection, you may want to start by reading: 10 Terms You Need to Know about Intellectual Property.
That may mean you need to protect your inventions by filing a patent application in countries in which you plan to do business. Most countries have a first to file system, so you want to file early, perhaps by using a provisional patent application.
You should also re-file your application every time you make a substantive change to your invention during the development cycle. This strategy helps you obtain the broadest possible protection.
For more details about patent protection, read 4 Strategies Exporters Should Use to Protect their Patents Globally.
Your inventions aren't the only thing you need to protect. Your company trademarks and trade names are an important asset in the global business economy.
In most countries, trademark rights are only obtained by registering that mark with the proper authority in that country. Ideally, you should register your trademarks in every country where you want your mark protected.
Using your trademarks is an important factor in protecting it. By using them, you not only increase the marketing value of the marks, it makes ownership of the marks clear. In most countries, if you don't use a trademark, it can be canceled for non-use.
You also need to be willing to take action against those who infringe on your marks. This is typically done through the courts.
For more information about international trademark protection, read 5 Strategies for Exporters to Protect their Trademarks Globally.
The United States Patent and Trademark Office (USPTO) has a number of resources available for domestic and international IP protection on their website.
Decide how to price your products.
Pricing is one of the most difficult challenges for exporters, even experienced ones. According to A Basic Guide to Exporting, these 10 questions will help ensure you're setting the best price for your product.
At what price should your company sell its product in the foreign market?

What type of marketing positioning—also known as customer perception—does your company want to convey through its pricing structure?

Does the price reflect your product's quality?

Is the price competitive?

What type of discounts and allowances should your company offer foreign customers?

Should your prices differ by market segment?

What should your firm do about product-line pricing?

What options are available if your firm's costs increase or decrease? Is the demand in the foreign market elastic or inelastic?

Is the foreign government going to view your prices as reasonable or exploitative?

Do the foreign country's anti-dumping laws pose a problem?
Traditionally, determining proper pricing depends on costs, market demand, and competition. You'll also want to consider additional costs the importer will incur, including tariffs, customs fees, currency fluctuation, transaction costs, and value-added taxes, because they can add to the final price substantially and may even double the U.S. domestic price of your good.
Pricing is a complicated, important aspect of exporting, so make sure you do thorough research to understand how and what to charge.
You may also want to consider pricing your exports in the local currency. It can make your goods more competitive, particularly with companies located in other countries. Watch the free webinar, Why You Should Start Invoicing in Foreign Currencies.
2. Review and Understand Export and Import Regulations
Make sure you know about any restrictions on exporting your goods from the U.S.
Determining which of your products are subject to export regulations is one of the first, most important steps you'll need to take in the export compliance process. Here are some key things to look out for:
Export license requirements. A relatively small number of exports require a license from either the U.S. Department of Commerce or another U.S. agency like the State Department. Depending on your product's technical characteristics, destination, and end users/end uses, your product may be one of them.
Our white paper, How To Determine If You Need an Export License, is a must-read resource for new exporters. Once you've done your background research, use our Export Controls Wizard to find out more about your specific product's requirements.
Embargoed countries are countries you are not allowed to do business with. To avoid them, you need to know which ones they are. You can find out more about embargoed countries and export regulations in our articles, Six Basic Steps for Export Compliance and The Three R's of Export Compliance.
Restricted parties are individuals, businesses and other organizations that have been identified as engaging in activities related to the proliferation of weapons of mass destruction; are known to be involved in terrorism or drug trafficking; or have had their export privileges suspended.
All exporters should check all the parties in every export transaction against the various denied party screening lists to prevent incurring penalties. You can do this manually via the Federal Register, but be aware that the number of lists to be checked is large. Yes, it is time consuming, but you could face jail time if you are found to be in violation of these regulations.
(To make it easier to stay in compliance and save precious time, try our Restricted Party Screening Wizard for free, so you can be sure that you are accessing the most current information available.)
Find out if there are any restrictions on importing your goods in prospective countries.
Just as there may be restrictions on exporting your goods from the United States, there may be limits or prohibitions about importing goods into your chosen market(s). In addition to identifying the correct Harmonized System (HS) number for your products (a number that is used to determine how much duty you must pay for the goods), you need to be aware of other types of import controls for your products, including import licenses and permits, various certificates, absolute and tariff rate quotas, and anti-dumping and countervailing duties.
Research to see if your products qualify for any free trade agreements (FTA).
Depending on where you are exporting your goods and their country of origin, they may be eligible for reduced or no duties upon import. By eliminating the import duties on your products, they become less expensive and more competitive in your chosen markets. You may want to alter how you source some of the parts of your goods in order to get your goods to qualify for a particular free trade agreement if it will eliminate the import tariff.
The U.S. currently has free trade agreements with 20 countries covered by 14 different treaties. The most widely used agreement is the North American Free Trade Agreement, more commonly known as NAFTA. (NAFTA will probably soon be replaced by the U.S.-Mexico-Canada (USMCA) Free Trade Agreement. See NAFTA vs. USMCA.)
Each of the 14 different agreements have different rules of origin for determining whether or not your product qualifies under the agreement. It's important to understand how these rules of origin work. Typically, the goods are wholly obtained or produced within one of the countries of the agreement, or they are substantially transformed in one of the countries.
The definition of "wholly obtained or produced" and "substantially transformed" can be very narrowly defined. You should not participate in the free trade agreement unless you are sure—and can prove—that the goods qualify. And even if they do qualify, there may be times when it makes sense to opt out and not choose to participate. Read When Should You Refuse to Complete the NAFTA Certificate of Origin to learn more.

3. Prepare Your Goods for Shipping

Identify partners, like freight forwarders.
Whether you're looking for a new partner or reviewing your relationship with your current freight forwarder, here are seven questions you should think about before taking action:
Do I have a specialized product line or type of export?

How many ports will I be using for exports?

Is automation easy with this partner?

What is the broker or freight forwarder's general reputation?

Do I need a dedicated account representative?

Do we have a written working agreement?

Are there warning signs about the freight forwarder you might choose?
The answers to your questions about freight forwarders will help you identify if your relationship is as functional and profitable as it could be.
Understand Incoterms 2020 rules.
One of the first things to confuse new exporters is the difference in the type of trade terms that are commonly used in international trade versus domestic sales. While most companies use a variant of FOB as the trade term of choice within the U.S., there are currently 11 different trade terms, called Incoterms 2020, that are used internationally.
While using Incoterms rules for your export sale is voluntary, they are globally accepted and provide a shorthand of outlining when the responsibility for the goods transfers from the seller to the buyer. They don't, however, say anything about the price of the goods, the method of payment, or when the title of the goods passes. Most importantly, they don't replace the need for a sales contract.
We've written extensively about Incoterms rules:
Understand product labeling requirements in your destination country.
Here are a few things you need to consider:
Does the country legally require using specific language?

Do the product content and country of origin need to be included?

Are weights and measures stated in the local units?

Do items need to be labeled individually?
Think about this for a second: Losses from improperly packed containers add up to $5 billion a year worldwide. That's a pretty good reason new exporters should make sure they're avoiding potential problems when they prepare their export shipping crates.
In The Art and Science of Packing a Shipping Container, we offer several tips that can help make sure your goods and containers are prepared for the journey ahead. You can also download a free export packing list to help you in your export process.
Understand and correctly apply Hazmat requirements if appropriate.
Depending on what you're exporting, you may need to apply certain hazmat requirements. The regulations for shipping hazardous materials and dangerous goods are complicated, which you can learn about here. However, the most important step you can take when dealing with hazardous materials is to make sure you and the employees who will be dealing with these goods are thoroughly trained and knowledgeable about the regulations.
Our free webinar, An Introduction to Shipping Dangerous Goods, is a must-watch for anyone who currently ships or plans to start shipping dangerous goods. Additionally, companies like CARGOpak can help you get effective hazmat and dangerous goods training through on-site DOT Hazardous Materials (hazmat) compliance training classes and seminars.
Make carrier choices.
New exporters need to decide what methods they are going to use to get their goods to their destinations—air, ship, rail, road or a combination. Just as with freight forwarders, make sure you're asking questions, not just partnering with the first company you meet. What you think may be the most inexpensive, efficient way to carry your exports may not be. Explore all your options to find the most economical and efficient combination.
Understand insurance requirements.
Insurance is an important, necessary protection for U.S. exporters. A Basic Guide to Exporting covers the options available and the information you need to know in order to purchase insurance. You should also consult with international insurance carriers or freight forwarders for more information about your specific goods.

4. Complete Your Export Paperwork

Once you've completed all of the above steps, you've still got a way to go—you now need to fill out the documentation and supporting paperwork that will accompany your goods on their export journey. This is crucial to your success, because any errors (even simple typos) in your paperwork could delay shipments and your payday.
Depending on what, how and where you're exporting, you may need to prepare several different export forms. The free Beginner's Guide to Export Forms white paper explains more than 20 of the most common export forms and the typical information required on each. In addition, you can download PDF samples of the export documents from the Shipping Solutions website.
It's important that you create accurate export forms, or else your goods could get stuck in customs, you may have difficulty getting paid on time, and you could be violating export and import regulations, which could result in fines or other penalties. These problems often occur because you have entered inconsistent information on the documents.
Shipping Solutions export documentation software makes it quick and easy to create accurate export documents by eliminating redundant data entry, properly formatting the correct information on each of the forms, and ensuring consistent information. You can watch an 8-½ minute video of how Shipping Solutions works, or you can register for a free, private demo of the software.



5. Make Sure You Get Paid

Arguably the most important part of being an exporter is getting paid for your goods. To make sure you get paid, you need to find an international banking partner and understand your payment options. It may help to start by reviewing the 10 Terms You Need to Know to Help You Get Paid for Your Exports.
Find an international banking partner.
Interview several bankers from multiple banks. You're looking for someone you feel comfortable with, someone with whom you have a good rapport, and someone you can trust.
Make sure your bank can help you. The bank you choose should do more than provide guidance in getting paid; it should also help you assess creditworthiness and guide you on the best payment methods for your particular situation.
Your bankers need to know the details about each type of document and supporting information you need in order to facilitate a smooth letter of credit. They should also know the sticking points regarding letters of credit and any other payment type, and be able to advise you regarding the best payment methods for your exports.
Understand your payment options.
There are a variety of ways you can structure an international sale and different options for getting paid. The five most common methods of payment in international trade are consignment, open account, documentary collections, letters of credit, and cash in advance.
The Export-Import Bank of the United States has published the Trade Finance Guide that outlines the advantages and risks for each of the five common payment options. In addition, it details the financing options available to exporters through the bank.


Do the Work Now, and You'll Worry Less Later

For new exporters, it's easy to be so excited to get started that you skim over details and get penalized.
However, by taking care of the above five things up front, you'll have much less to worry about down the road. By taking the time to understand terms, regulations, procedures and processes, you stand a greater chance at becoming a successful exporter.


Next steps