Generate Electronic
Certificate of Origin

Forms
Quickly generate an electronic certificate of origin (eCO) that you can use for your export shipment.
What is a Certificate of Origin?
A certificate of origin is an important document in international trade because it identifies the country of origin of goods being exported. Customs authorities in many countries require the certificate of origin because they use the information to help determine the admissibility of goods and the duty rate to apply to imports.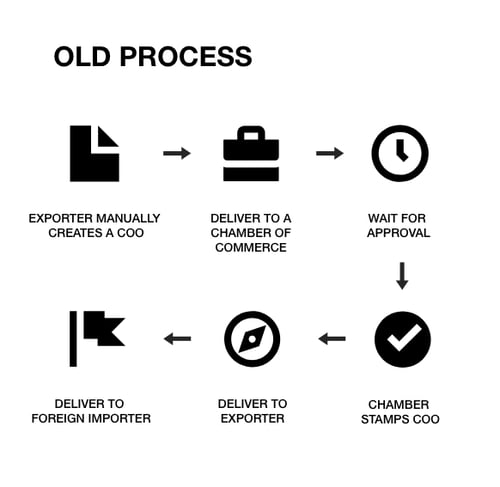 Since 1923, chambers of commerce are an official body to sign and stamp certificates generated by exporters. This has usually required companies to manually create the form, deliver or courier it to the chamber and wait for an appropriate staff member to review and certify the certificate, send or courier it back to the exporter, and then forward it by international courier to the importer.
As you can imagine, this was an expensive and time-consuming process.
Shipping Solutions offers a fast and easy way to get your certificate of origin certified by a chamber of commerce. Rather than creating the certificate and taking it to a chamber to be certified, we offer a service that allows you to enter the information for your certificate online and have a certified certificate delivered to you.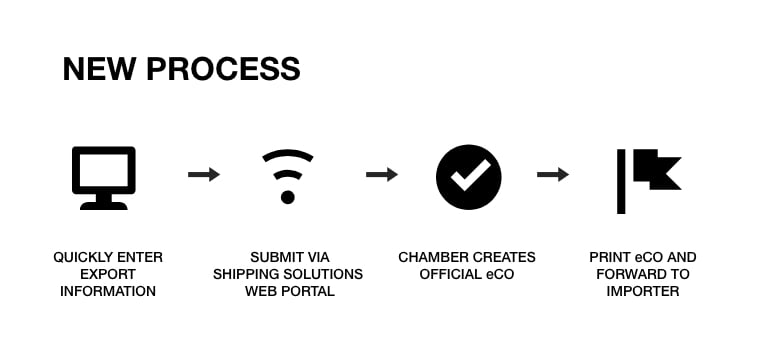 Our certificate staff is accredited by the International Chamber of Commerce World Chambers Federation. You can be assured that your certificate will comply with the rules, regulations and best practices of international trade.
At only $50 per document ($25 per document for Shipping Solutions Annual Maintenance Program subscribers), eCOs save exporters considerable time and money.
Advantages of an eCO
Save time:

Turn-around in hours rather than days. Print certified documents at your own desk.
Save money:

Only $50 per document rather than a couple hundred dollars with signing and courier fees. Annual Maintenance Program subscribers save even more!
Security:

Secure web portal and digital storage ensures your information stays safe and your eCOs are maintained for five years.
Free Trade Agreement Certificate of Origin
A certificate of origin stamped by a chamber of commerce is different than a country-specific certificate of origin used to identify goods that are eligible for free or reduced duty rates under the free-trade agreements (FTA) negotiated by the United States. For example, a USMCA certificate of origin does not need to be stamped by a chamber.
The U.S. currently has signed 14 free trade agreements with 20 different countries. Visit the Certificates of Origin page for more details about the various FTA certificates of origin and to download a free PDF version of many of these forms.
How to Create an eCO
Fill out and submit the registration form at the top of this page.* There is no cost and no obligation until you submit your first eCO.
Once your registration form has been submitted, you will typically receive your eCO login credentials and user guide by email by the end of the next business day.
Login to the eCO portal to enter your export shipment details. Click Submit when ready. If you are a Shipping Solutions export documentation software user, you can upload your export shipment details right from the software.
In just a few hours, you'll receive email notification that your eCO is approved, certified and ready to use.
Please note: The International Chamber of Commerce requires that the goods listed on the Certificate of Origin have some logical affiliation with the country in which the Chamber of Commerce is located. Since we work with the American World Trade Chamber of Commerce located in the United States, either the exporter must be located in the U.S. or the goods must be produced in the U.S.
* If your company or organization is already registered with Shipping Solutions for eCOs and you want to add additional users to your account, contact your eCO primary user and ask to be added to their account.
Shipping Solutions AMP Subscribers
If your company uses Shipping Solutions export documentation software, you are eligible for discounted pricing. Not a Shipping Solutions software user and/or a current AMP subscriber? Contact us for more information about subscribing at 888-890-7447 or info@shipsolutions.com. Or, let us show you how it works.
Information You'll Need to Include on the Certificate of Origin
The exporter and importer names and addresses.
The country or countries of origin of your goods.
The commercial invoice number.
The name and description for your items.
The weight of the goods.
Certificate of Origin FAQs
Who provides a certificate of origin?

A certificate of origin is "chamberized" by a chamber of commerce, meaning they verify the accuracy of the information and put their stamp on it. They have the authority to certify the origin of goods based on the information provided and the supporting documentation.

How do you get a certificate of origin?

Shipping Solutions provides an efficient way to get a certified certificate of origin from a chamber of commerce. Instead of manually creating the certificate and seeking certification from a chamber, sign up on this page, enter the required information online and a certified certificate will be electronically delivered directly to you.

Why do you need a certificate of origin?

A certificate of origin validates the country in which a product or goods originated. It establishes the source of the goods and is used to determine eligibility for preferential treatment, such as reduced tariffs or duty exemptions, under trade agreements or customs regulations.

Can I create my own certificate of origin?

A certificate of origin must be issued by a chamber of commerce. However, you can prepare the necessary documentation and provide accurate information to facilitate the issuance of the certificate.
Register Now to Create an eCO
The Paper Certificate of Origin Form
Download

the PDF Form Here:
Like what you see? Share Shipping Solutions now.