Free Download:
Air Waybill
Download and print this PDF of the Air Waybill form.
What is an Air Waybill?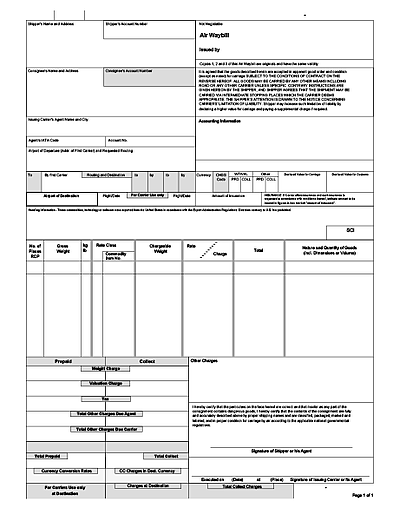 The air waybill is the equivalent of the ocean bill of lading but for air transport. However, the air waybill cannot be negotiable; they may never be consigned "to order of shipper."
An air waybill is the document that controls the routing of the exporter's cargo while it is in the hands of the air carrier or a consolidator.
As an exporter, correctly filling out a bill of lading is important if you want to get paid on time. Why? Because it determines the shipment date, and payment date is often associated with shipment date. Financing, too, is often associated with shipment date, as banks often refer to pre-shipment financing or post-shipment financing. Plus, more than 10,000 shipping containers are lost annually. Without a correctly completed bill of lading, that could mean a major headache trying to get compensated for your loss.
Create Accurate Export Forms
Reduce the time it takes to complete the air waybill by up to 80%. Shipping Solutions export documentation software makes it easy to create more than two dozen standard export forms. Register now for a free demo. There's absolutely no obligation.
Like what you see? Share Shipping Solutions now.
Download Now