We understand completing export documents can be a tedious and time-consuming process. Here's a Commercial Invoice form that includes the U.S. Origin Invoice Declaration statement you need to qualify your goods for preferential access to Israel.
It's just one export form of dozens that you can quickly and easily create with Shipping Solutions software.
What is a Commercial Invoice for Exports to Israel?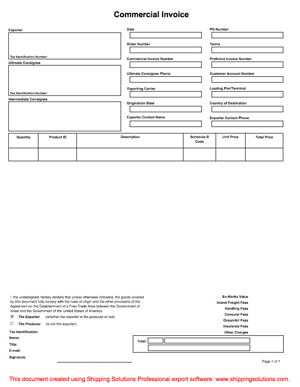 Prior to April 1, 2018, U.S. exporters who wished to qualify for preferential access to the Israeli market needed to use a special green certificate of origin form. That regulation has now changed and instead of providing the green certificate of origin, U.S. exporters must include a new statement that declares that their goods qualify under the U.S.-Israel Free Trade Agreement.
This version of the commercial invoice includes that statement as well as all the standard information that is typically required on a commercial invoice that must accompany an export shipment.
The commercial invoice is the single document that describes the entire export transaction from start to finish. When completed properly, it provides important instructions and information to the buyer, the freight forwarder, U.S. and foreign customs, the import broker, the marine insurance company, and both your bank and the buyer's bank. Done improperly, it can cause confusion, delays and disagreements.
If you are tired of trying to assemble your export documents manually, we'd love to introduce you to an easier way. With Shipping Solutions, you can complete these documents five-times faster. And they'll be more accurate, too. Let us show you how it works.