Download and print this PDF of the Commercial Invoice form with the language you need for your exports to Israel.
What is a Commercial Invoice for Exports to Israel?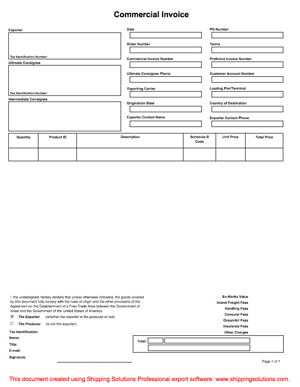 Prior to April 1, 2018, U.S. exporters who wished to qualify for preferential access to the Israeli market needed to use a special green certificate of origin form. That regulation has now changed and instead of providing the green certificate of origin, U.S. exporters must include a new statement that declares that their goods qualify under the U.S.-Israel Free Trade Agreement.
This version of the commercial invoice includes that statement as well as all the standard information that is typically required on a commercial invoice that must accompany an export shipment.
The commercial invoice is the single document that describes the entire export transaction from start to finish. When completed properly, it provides important instructions and information to the buyer, the freight forwarder, U.S. and foreign customs, the import broker, the marine insurance company, and both your bank and the buyer's bank. Done improperly, it can cause confusion, delays and disagreements.
U.S. - Israel FTA Rules of Origin
The Rules of Origin apply to any article if:
(a) that article is wholly the growth, product or manufacture of the Unites States or is a new or different article of commerce that has been grown, produced or manufactured in the United States;
(b) that article is imported directly from the United States into Israel; and
(c) the sum of the following:
(i) The cost or value of the materials produced in the United States, plus
(ii) The direct costs of processing operations performed in the United States is not less than 35% of the appraised value of the article at the time it is entered into Israel.
No article shall be considered a new or different article of commerce under this Agreement and no material shall be eligible for inclusion as domestic content under this Agreement by virtue of having merely undergone (1) simple combining or packaging operations or (2) mere dilution with water or with another substance that does not materially alter the characteristics of the article or material.
Create Accurate Export Forms
Reduce the time it takes to complete the commercial invoice by up to 80%. Shipping Solutions export documentation software makes it easy to create more than two dozen standard export forms. Register now for a free demo. There's absolutely no obligation.