Free Download:
Commercial Invoice
Download and print this PDF of the Commercial Invoice form for use with your exports.
What is a Commercial Invoice?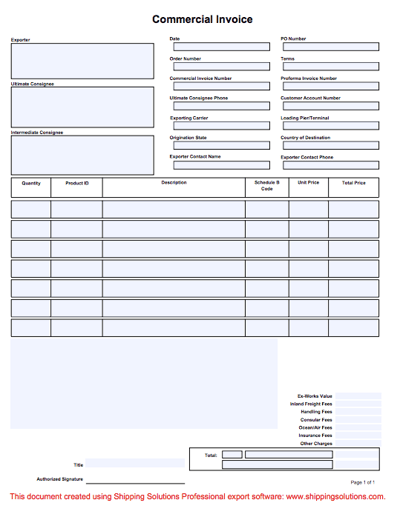 Once your international sale is complete and your goods are ready to be sent to the buyer, you need to prepare a commercial invoice and include it with your shipment.
The commercial invoice is the single document that describes the entire export transaction from start to finish. When completed properly, it provides important instructions and information to the buyer, the freight forwarder, U.S. and foreign customs, the import broker, the marine insurance company, and both your bank and the buyer's bank. Done improperly, it can cause confusion, delays and disagreements.
Certain countries may require a specific invoice instead of, or in addition to, the standard commercial invoice form. Canada requires that U.S. exporters include the Canada Customs Invoice for shipments to that country valued at more than $2,500 CAD unless the commercial invoice includes the additional data requirements.
If your buyer is located in one of the 15 Caribbean Community (CARICOM) countries, they may request a CARICOM invoice regardless of the value of the shipment. This specialized form helps member countries more easily collect import data.
A commercial invoice can serve several added functions:
The destination country requires it before clearing the goods through customs.
If there is an insurance claim on the shipment, it serves as a key supporting document.
The buyer uses it to release funds through its bank to the seller.
A bank examines it before reimbursing funds under a letter of credit or documentary collection.
U.S. export regulations require that exporters retain it for five years from date of shipment.
Exporters can use it to support foreign credit risk insurance claims.
A commercial invoice is not a proforma invoice, which is a preliminary invoice. A proforma invoice is issued to assist the buyer in obtaining a letter of credit or an import permit in advance of the international shipment.
How to Create a Commercial Invoice
Create Accurate Export Forms
Reduce the time it takes to complete the commercial invoice by up to 80%. Shipping Solutions export documentation software makes it easy to create more than two dozen standard export forms. Register now for a free demo. There's absolutely no obligation.
Commercial Invoice FAQs
What is the difference between a commercial invoice and a regular invoice?

A commercial invoice is used in international trade to request payment and provide detailed information about the goods sold, including customs-related details. A regular invoice, also known as a standard invoice or sales invoice, is typically used in domestic transactions and is issued by a seller to a buyer to request payment for goods or services rendered.

What must be on a commercial invoice?

A commercial invoice in international trade typically includes the product classification, country of origin, Incoterms 2020 rules, proper value of goods, destination control statement, and additional details such as export license information and import country requirements. It is important to provide accurate information and have the invoice signed in blue ink with three copies provided.

Can I make my own commercial invoice?

It is easy to create your own commercial invoice by downloading the free template on this page. It will walk you through the information required, including product classification, country of origin, Incoterms 2020 rules, proper value of goods and additional information.
Like what you see? Share Shipping Solutions now.
Download Now