Download and print this PDF of the CARICOM Invoice form for use with your exports.
What is a CARICOM Invoice?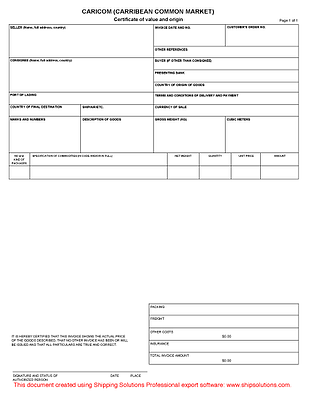 In the Caribbean region, a free trade zone called the Caribbean Common Market exists. This free trade zone essentially creates one common market for the 15 member states. Theoretically, all goods produced within the common market can move freely throughout the common market and should not be subject to any import duties, license restrictions, quotas or other barriers to entry.
With some exceptions, goods imported into the member countries from non-member countries are subject to import duties and other import restrictions. All exports to member countries from non-member countries must be accompanied by five copies of a properly completed CARICOM Invoice or a standard commercial invoice that includes all the data found on the CARICOM invoice. If the invoice is missing any of this information, the shipment may be delayed at customs.
The CARICOM member states include: Antigua and Barbuda; The Bahamas; Barbados; Belize; Dominica; Grenada; Guyana; Haiti; Jamaica; Montserrat; Saint Lucia; St. Kitts and Nevis; St. Vincent and the Grenadines; Suriname; and Trinidad and Tobago, as well as five associate member states: Anguilla; Bermuda; British Virgin Islands; Cayman Islands; and Turks and Caicos Islands.
Create Accurate Export Forms
Reduce the time it takes to complete the CARICOM Invoice by up to 80%. Shipping Solutions export documentation software makes it easy to create more than two dozen standard export forms. Register now for a free demo. There's absolutely no obligation.