Download and print this PDF of the USMCA Certification of Origin and help your importer claim preferential duty rates.
What is a USMCA Certificate of Origin?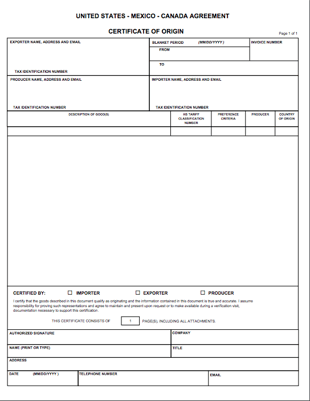 On July 1, 2020, The United States-Mexico-Canada Agreement (USMCA) replaced NAFTA as the free trade agreement between the three countries. Under USMCA, qualifying products are exempt from tariffs and quotas when exported to Mexico and Canada. To claim this preferential duty rate, you must determine if your goods qualify under the USMCA Rules of Origin.
While the importer is responsible for making the claim for preferential duty rates under USMCA, the producer or exporter of the goods is the one most likely to know whether or not their goods qualify. Therefore, they are often the party that completes the USMCA Certificate of Origin.
While the USMCA does not provide the specific format for a specific Certificate of Origin form, it does outline the specific data requirements that are required in order to claim preference.
A Certificate of Origin can cover a single shipment or multiple shipments of the identical goods for a blanket period up to 12 months. A certificate is not required for imports valued at $2,500 or less as long as they aren't part of a larger shipment broken up into smaller segments in an attempt to evade U.S. laws or regulations.
Once completed, you should send a paper or electronic copy of the Certificate of Origin to the importer. The importer making the claim and the party completing the certificate is required to keep all documentation of USMCA claims for at least five years after the completion of the transaction.
Create Accurate Export Forms
Reduce the time it takes to complete the USMCA Certificate of Origin by up to 80%. Shipping Solutions export documentation software makes it easy to create more than two dozen standard export forms. Register now for a free demo. There's absolutely no obligation.