Download and print this beautifully formatted PDF of the USMCA Certificate of Origin and help your importer claim preferential duty rates.
What is a USMCA Certificate of Origin?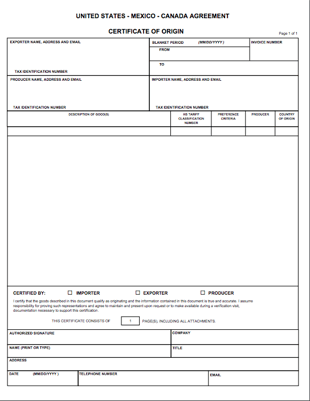 On July 1, 2020, The United States-Mexico-Canada Agreement (USMCA) replaced NAFTA as the free trade agreement between the three countries. Under USMCA, qualifying products are exempt from tariffs and quotas when exported to Mexico and Canada. To claim this preferential duty rate, you must determine if your goods qualify under the USMCA Rules of Origin.
While the importer is responsible for making the claim for preferential duty rates under USMCA, the producer or exporter of the goods is the one most likely to know whether or not their goods qualify. Therefore, they are often the party that completes the USMCA Certificate of Origin.
While the USMCA does not provide the specific format for a specific Certificate of Origin form, it does outline the specific data requirements that are required in order to claim preference.
Once completed, you should send a paper or electronic copy of the Certificate of Origin to the importer. The importer making the claim and the party completing the certificate is required to keep all documentation of USMCA claims for at least five years after the completion of the transaction.
If you are tired of wasting so much time manually creating the USMCA Certificate of Origin and other export documents, we'd love to introduce you to an easier way. With Shipping Solutions export documentation software, you can accurately complete your export forms five-times faster. See how it works.