Free Download:
Proforma
Invoice
Download and print this PDF of the Proforma Invoice form for use with your exports.
What Is a Proforma Invoice?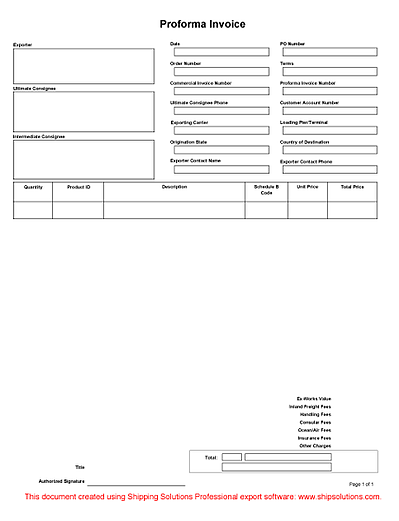 An international sale often begins with a letter of inquiry from a potential buyer expressing interest in one or more of your products, outlining the terms of their interest, and asking for an informal or formal quote.
The buyer may request the quote in the form of a proforma invoice in order to arrange a letter of credit to pay for the goods or if they need to arrange financing for the purchase. In addition, certain countries may require a proforma invoice if they tightly control their currency exchange rate, require an import permit, or protect local industry by placing import quotas on certain types of goods.
If done correctly and an order results, the final commercial invoice you generate will closely resemble the proforma invoice. That means that all costs included in the quotation are firm and are not allowed to vary more than a letter of credit allows, if that is how the payment is arranged.
All proforma invoices should be valid for a specific time period. Keep in mind that material and manufacturing prices can rise, inland and international transportation fees can change, and currency exchange rates can fluctuate. Depending on the international trade term (typically one of the Incoterms® 2020 terms) you agree upon with the buyer, you may be responsible for these and other costs.
The Importance of the Proforma Invoice
It serves as a negotiating tool between you and your international customer. Ideally, you want the proforma invoice to be as close to the commercial invoice as possible.
It is a voluntary document, and it is the preferred method in the exporting business. It's good form to include a proforma invoice whether or not it is requested.
It is a blueprint for the entire export process. When it's correctly completed, it contains several key pieces of information that will be used on many of the export forms, including a final export invoice, you'll need to create later.
Create Accurate Export Forms
Reduce the time it takes to complete the proforma invoice by up to 80%. Shipping Solutions export documentation software makes it easy to create more than two dozen standard export forms. Register now for a free demo. There's absolutely no obligation.
Like what you see? Share Shipping Solutions now.
Download Now