Free Download:
U.S.–Panama
Certificate of Origin
Download and print this PDF of the U.S. - Panama Certificate of Origin and help your importer claim preferential duty rates.
What is a U.S.–Panama Certificate of Origin?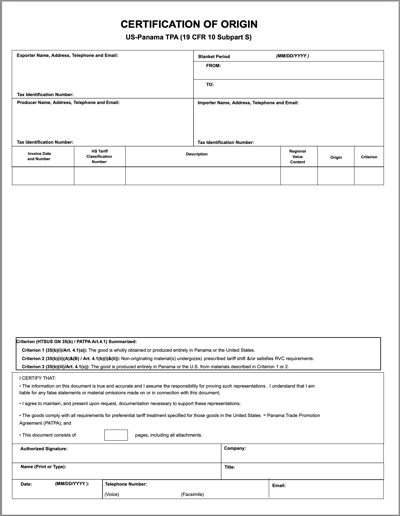 The United States–Panama Trade Promotion Agreement (PATPA) entered into force on Oct. 31, 2012. On this day, more than 87% of U.S. industrial goods exports to Panama became duty-free, including information technology equipment, agricultural and construction equipment, aircraft and parts, medical and scientific equipment, environmental products, pharmaceuticals, fertilizers, and agro-chemicals.
It is the responsibility of the importer in Panama to make a claim for the preferential tariff rate for qualifying products. However, the exporter or producer may be asked by the importer, customs broker or Panama Customs Service to provide a written or electronic certification or other information to support the importer's claim. While there is no required form for certifying origin, this is the form that is commonly used by many exporters and importers.
The importer is heavily dependent upon the assistance and cooperation of its U.S. suppliers in producing accurate and well-documented declarations of origin.
Create Accurate Export Forms
Reduce the time it takes to complete the U.S. - Panama Certificate of Origin by up to 80%. Shipping Solutions export documentation software makes it easy to create more than two dozen standard export forms. Register now for a free demo. There's absolutely no obligation.
Like what you see? Share Shipping Solutions now.
Download Now