We understand completing export documents can be tedious and often high-pressure. Here's a Packing List that should help get you through this shipment. It's just one export form of dozens that are beautifully printed and completed with Shipping Solutions®.
What is a Packing List?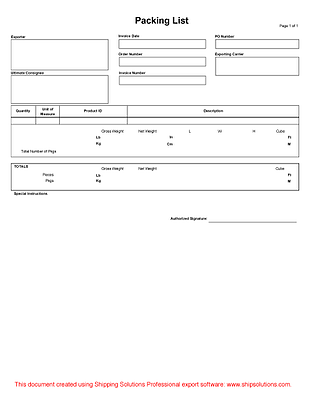 While a packing list is not required by customs in most countries, it is an important document in the export process.
The packing list may be used by the freight forwarder to prepare a bill of lading for the ocean or air carrier and to understand how much room is needed for the cargo. It may be used by banks as a supporting document presented for payment under a letter of credit or other payment terms. It may be used by U.S. Customs as well as by customs in the country of import for compliance and duty liability.
Key Data Elements
In addition to including the basic details about the international transaction, the packing list will include:
The name and contact information of the exporter and ultimate consignee;
Details of which items appear in each of the packing containers;
Weight and measurements of each packing container;
Any marks and numbers including a container number and seal number if appropriate;
The total number of pieces and weight and measures of the entire shipment; and
Any special instructions or additional information that is important for the shipment.

If you are tired of trying to assemble your export documents manually, we'd love to introduce you to an easier way. With Shipping Solutions, you can complete these documents five times faster. And they'll be more accurate, too. Give it a try

.