Free Download:
U.S.-Chile
Certificate of Origin
Download and print this PDF of the U.S.-Chile Certificate of Origin and help your importer claim preferential duty rates.
What is a U.S.–Chile Certificate of Origin?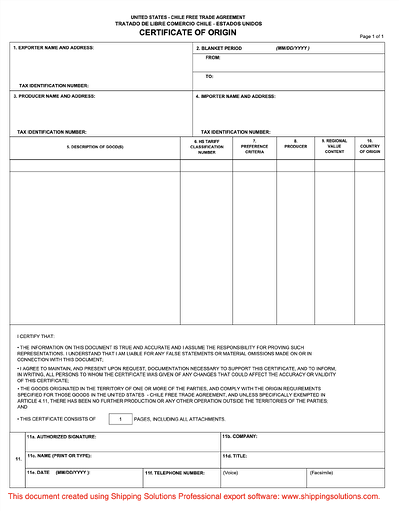 The U.S.–Chile Free Trade Agreement went into force in 2004 with 100 percent of products becoming duty free in 2015. Like all of the free trade agreements the U.S. has entered into with other countries, the responsibility for claiming preferential treatment lies with the importer. However, more often than not, the information needed to support the claim will have to be provided by the producer or exporter of the goods.
A certificate of origin can take many forms, such as a statement on company letterhead, a statement on a commercial invoice or a formal certificate of origin. Shipments valued under $2,500 do not require a certificate of origin or other supporting information of a preferential claim unless the customs authority suspects a claim is fraudulent.
If you generate a certificate of origin for the importer, you should maintain it for a period of at least five years after the date the certificate was issued along with all records and supporting documents related to the origin of the goods.
A Chile Certificate of Origin Should Include:
The name and contact information for the exporter, importer and producer of the goods.
A description of the goods, including the six-digit Harmonized System or Schedule B code.
The preference criteria used to qualify goods under the FTA.
If you are the producer of the goods.
If you used the Net Cost accounting method to determine the origin of the goods.
The country of origin of the goods.
The signature and contact information of the person certifying that the goods qualify under the Chile FTA.
Create Accurate Export Forms
Reduce the time it takes to complete the U.S. - Chile Certificate of Origin by up to 80%. Shipping Solutions export documentation software makes it easy to create more than two dozen standard export forms. Register now for a free demo. There's absolutely no obligation.
Like what you see? Share Shipping Solutions now.
Download Now