We understand completing export documents can be tedious and often high-pressure. Here's a Dock Receipt that should help get you through this shipment. It's just one export form of dozens that are beautifully printed and completed with Shipping Solutions®.
What is a Dock Receipt?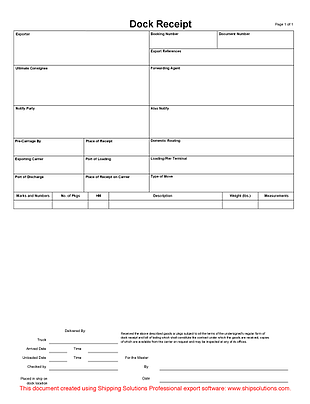 The dock receipt is designed to provide the exporter with proof of delivery of the cargo to the international carrier in good condition. The inland carrier may deliver the goods to a warehouse company or a warehouse operated by the carrier as arranged by the freight forwarder.
The dock receipt is often prepared by the exporter or the freight forwarder and is signed by the warehouse worker or agent for the carrier upon receipt of the goods. The dock receipt either accompanies the cargo when it is delivered to the pier or is emailed or faxed to the stevedore at the pier receiving the cargo.
Once the goods are delivered and signed for, the inland carrier provides the dock receipt to the freight forwarder as evidence it has successfully completed delivery of the goods. This is important in case the goods are lost or damaged after delivery to the dock and before arriving at their international destination.
If you are tired of trying to assemble your export documents manually, we'd love to introduce you to an easier way. With Shipping Solutions, you can complete these documents five times faster. And they'll be more accurate, too. Give it a try

.