Free Download:
Dock Receipt
Download and print this PDF of the Dock Receipt form.
What is a Dock Receipt?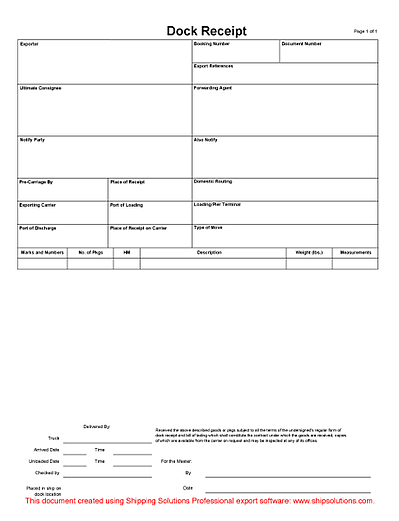 The dock receipt is designed to provide the exporter with proof of delivery of the cargo to the international carrier in good condition. The inland carrier may deliver the goods to a warehouse company or a warehouse operated by the carrier as arranged by the freight forwarder.
The dock receipt is often prepared by the exporter or the freight forwarder and is signed by the warehouse worker or agent for the carrier upon receipt of the goods. The dock receipt either accompanies the cargo when it is delivered to the pier or is emailed or faxed to the stevedore at the pier receiving the cargo.
Once the goods are delivered and signed for, the inland carrier provides the dock receipt to the freight forwarder as evidence it has successfully completed delivery of the goods. This is important in case the goods are lost or damaged after delivery to the dock and before arriving at their international destination.
A dock receipt should include:
The name and contact information for the exporter, the ultimate consignee, forwarding agent and the notify parties.
The place, date and time of the inland delivery of the goods.
Vessel, booking and loading instructions for the international carriage of the goods.
A description of the goods including their weights and dimensions, the number and kinds of packages, any marks and numbers on those packages, and whether any of the goods are hazardous.
Any special instructions for the shipment.
Create Accurate Export Forms
Reduce the time it takes to complete the dock receipt by up to 80%. Shipping Solutions export documentation software makes it easy to create more than two dozen standard export forms. Register now for a free demo. There's absolutely no obligation.
Like what you see? Share Shipping Solutions now.
Download Now