Free Download:
CUSMA
Certificate of Origin

in French
Download and print this PDF of the CUSMA Certification of Origin and help your importer claim preferential duty rates.
What is a CUSMA Certificate of Origin?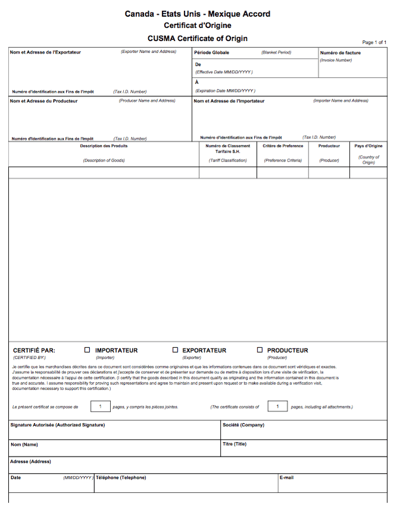 The Canada-United States-Mexico Agreement (CUSMA)—known as USMCA in the United States and T-MEC in Mexico—replaced NAFTA as the free trade agreement between the three countries on July 1, 2020.
Under CUSMA, importers are now the party to make a claim for preferential duty rates based on certification that the goods qualify under the CUSMA Rules of Origin. Because the producer or exporter of the goods is the one most likely to know whether or not goods qualify, they are often the party that completes the CUSMA Certificate of Origin.
The party certifying that the goods meet the rules of origin must provide, at minimum, certain data elements as outlined in the agreement. CUSMA does not require a specific format or Certificate of Origin form.
A certificate is required for imports valued at more than $2,500. It can cover a single shipment or multiple shipments of identical goods for a blanket period up to 12 months.
Once completed, you should send a paper or electronic copy of the Certificate of Origin to the importer. Keep all documentation of CUSMA claims for at least five years after the transaction is complete.
Create Accurate Export Forms
Reduce the time it takes to complete the CUSMA Certificate of Origin in French by up to 80%. Shipping Solutions export documentation software makes it easy to create more than two dozen standard export forms. Register now for a free demo. There's absolutely no obligation.
Like what you see? Share Shipping Solutions now.
Download Now