We understand completing export documents can be tedious and often high-pressure. Here's a Bank Draft and Transmittal Letter that should help get you through this shipment. It's just one export form of dozens that are beautifully printed and completed with Shipping Solutions®.
What is a Bank Draft and Transmittal Letter?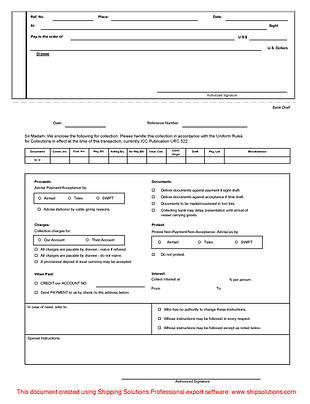 A bank draft is an important part of the international sales process for transferring control of the exported goods from the seller in exchange for funds from the buyer. It is often called a documentary collection, because the seller attaches documents to a draft and a cover letter.
Usually the seller's bank will send the bank draft and related documents via the freight forwarder to the buyer's bank or a bank with which it has a relationship in the buyer's country. When the buyer authorizes payment for the goods, the buyer's bank will release the documents to the buyer and transfer the funds to the seller's bank.
The bank draft may or may not include a transmittal letter, which includes details of the draft transaction including the types of additional documents that are included and payment instructions.
If you are tired of trying to assemble your export documents manually, we'd love to introduce you to an easier way. With Shipping Solutions, you can complete these documents five times faster. And they'll be more accurate, too. Give it a try

.