Free Download:
Bank Draft and
Transmittal Letter
Download and print this PDF of a Bank Draft and Transmittal Letter form to help make sure you get paid for your exports.
What is a Bank Draft and Transmittal Letter?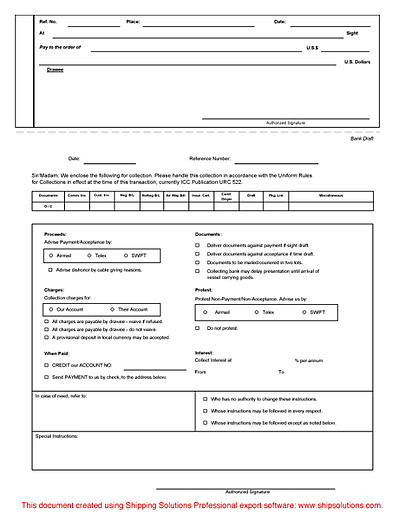 A bank draft is an important part of the international sales process for transferring control of the exported goods from the seller in exchange for funds from the buyer. It is often called a documentary collection because the seller attaches documents to a draft and a cover letter.
Usually the seller's bank will send the bank draft and related documents via the freight forwarder to the buyer's bank or a bank with which it has a relationship in the buyer's country. When the buyer authorizes payment for the goods, the buyer's bank will release the documents to the buyer and transfer the funds to the seller's bank.
The bank draft may or may not include a transmittal letter, which includes details of the draft transaction including the types of additional documents that are included and payment instructions.
Create Accurate Export Forms
Reduce the time it takes to complete a bank draft for your exports by up to 80%. Shipping Solutions export documentation software makes it easy to create more than two dozen standard export forms. Register now for a free demo. There's absolutely no obligation.
Like what you see? Share Shipping Solutions now.
Download Now