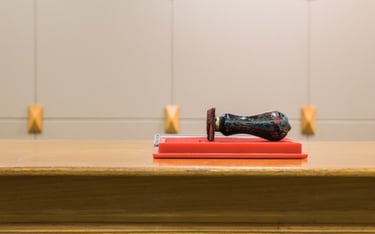 In my first article in this series, I discussed the role chambers of commerce play in exporting. In this article, I'm focusing on one of the most useful services a chamber of commerce provides to exporters: export documents. Specifically, their role in helping you create a certificate of origin.
Here's what you need to know about that process.
The Chamber of Commerce and the Certificate of Origin
A certificate of origin is a document that certifies the country where the goods originated. A certificate of origin may be required by the government of the country where your goods are imported. It's also frequently used to determine how much duty the importer will pay to bring in your goods.
Most countries accept a generic certificate of origin form that includes information about the exporter and importer, the description and harmonized tariff code of the goods, and the country of origin. The importer depends heavily upon assistance and cooperation from their U.S. suppliers in producing accurate and well-documented declarations of origin. These certificates are usually prepared by the exporter and notarized by the local chamber of commerce.
Two types of certificates of origin can be issued by chambers:
Non-preferential certificates of origin certify that the goods' country of origin does not qualify for any preferential treatment. These are the main type chambers issue, and they're also known as ordinary certificates of origin.
Preferential certificates of origin certify that goods are subject to reduced tariffs or exemptions when they are exported to countries extending these privileges.
Working with Your Local Chamber of Commerce
Your local chamber can help you sign and stamp your certificate of origin. Individual chamber processes vary, but here's a general outline of what you need to do and what you can expect in order to get your certificate of origin. (Keep in mind, this may not be exactly what you need to do—it's intended only to give a general outline.)
Obtaining a Certificate of Origin
Fill out an appropriate affidavit and have it notarized.
Provide either a manufacture invoice or commercial invoice indicating where your goods are manufactured.


Complete the certificate of origin document. (Shipping Solutions software can help you complete this form and all of your export documents five-times faster than how you're doing it now. Click here to see how.)


Take your notarized affidavit, certificate of origin document, and corresponding invoices to your chamber of commerce. Some chambers allow you to email these documents.


If you email the documents, indicate which documents you would like to be stamped.
Chambers usually charge a fee for stamping certificates of origin—however, if you're a member, that fee may be waived or reduced. This is an incentive of becoming a member.
Important Notes on Working with a Chamber
1. The chamber can't know if the information you're providing is accurate.
According to the Los Angeles Chamber of Commerce:
Chambers certify only that which they are able to verify. Certification guarantees the accuracy or truth of information contained in the document and is expressed by using the word 'certified.' Certification may be given for the whole document or may be limited to the position and identity of the Signatory. If the Chamber is presented with a declaration attesting to commercial details, the accuracy of which it cannot check it must confine itself to stamping the document attesting to the position and the identity of the signatory.
2. You can't stamp the document yourself.
Exporters may find the cost of stamping a certificate of origin extreme and want to do it themselves with a seal provided by a chamber of commerce. This is wrong, because it isn't a true validation—chambers who do this may lose their ability to provide certification.
Again, from the Los Angeles Chamber of Commerce:
Chambers that provide their seal directly to exporters or their agents are exposing themselves to liability by providing their seal without examining the documents and going through the check list. In some cases where Chambers have given their seal there have been cases involving the fraudulent issue of certificates or the forging of certifications.
In Conclusion
Chambers of commerce can be an excellent resource for exporters. Make sure you know what's going on with your local chamber, so you don't miss out on any helpful export-related events or programs.
---
This article was first published in January 2016 and has been updated to include current information, links and formatting.