Free Download:
Sample
Certificate of Origin

Form
Not sure how to complete a generic certificate of origin? This PDF form includes sample data, so you can see what a completed document should look like.
About the Certificate of Origin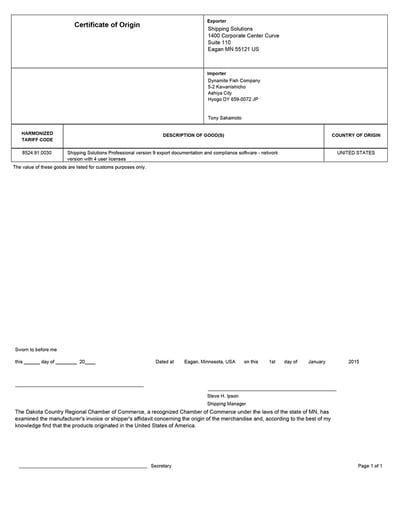 The certificate of origin is a document issued by an exporter that confirms and certifies the country of origin of its products.
Most countries accept a generic certificate of origin form that includes:
Information about the exporter and importer.
The description and harmonized tariff code of the goods.
The country of origin.
These certificates are usually prepared by the exporter and certified by the local chamber of commerce.
Shipping Solutions offers a fast and easy way to get your certificate of origin certified by a chamber of commerce. Rather than creating the certificate and taking it to a chamber to be certified, we offer a service that allows you to enter the information for your certificate online and have a certified certificate delivered to you.
Our certificate staff is accredited by the International Chamber of Commerce World Chambers Federation. You can be assured that your certificate will comply with the rules, regulations and best practices of international trade.
Reduce the time it takes to complete the Certificate of Origin and your other export forms by up to 80%. Shipping Solutions export documentation software makes it easy to create more than two dozen standard export forms. Register now for a free demo. There's absolutely no obligation.
Like what you see? Share Shipping Solutions now.
Download Now