Free Webinar:
Do Your Products Require an
Export License?
Depending on what, where and to whom you are shipping your company's products, U.S. export regulations may require that you apply for and receive an export license before you can legally ship the goods.
While most goods don't require a license, it is your company's responsibility to make that determination or potentially face monetary penalties, prohibitions on exporting, or even jail time.
Join Brent Webster, Export Controls Counselor at the Bureau of Industry and Security, as he outlines the procedures you must follow to determine if your goods require an export license and the procedures you need to follow if they do. The webinar is free to all interested companies and individuals.
What You'll Learn
Which U.S. agency has jurisdiction over your products.

How to properly classify your products under the Export Administration Regulations.

How to use that classification to determine if you need an export license.

Export license exceptions.

How to apply for an export license.
Who Should Attend
C-suite executives for U.S. companies or subsidiaries.

Companies seeking to conduct business in the U.S.

Compliance managers.

Accounting staff.

International sales personnel.

Sponsored by: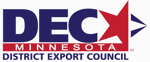 Like what you see? Share Shipping Solutions now.
Watch the Webinar Recording