Free Download:
Inland Bill of Lading

Sample
Download this sample of the Inland Bill of Lading form so you can see how to fill it out.
About the Inland Bill of Lading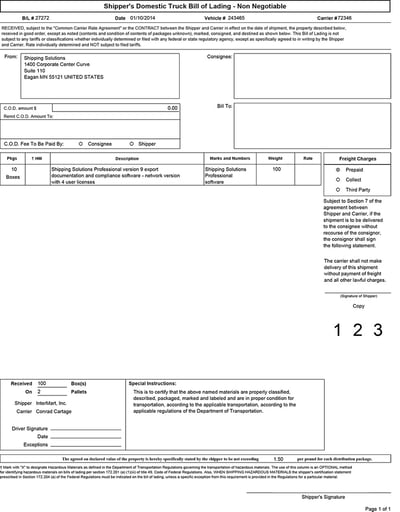 An inland bill of lading is often the first transportation document issued for an international shipment. They are used for cargo shipments by rail or road but not sea.
The inland bill of lading is a contract between you, the owner of the goods, and the carrier stating what goods you're shipping, where the shipment is coming from, and where it's headed. It serves as a receipt issued by the carrier once your shipment is picked up. It can also serve as a document of title, which allows the person holding it to claim possession of your shipment.
Tips for Completing an Inland Bill of Lading:
An inland bill of lading may be prepared by the carrier or the shipper and then signed when the carrier takes possession or picks up the cargo.

A completed form should include the following:

The name and address of the international carrier in the seller's country.
Ref

erences to the carrier's limited liability.

In

formation on the products.
Reduce the time it takes to complete the Inland Bill of Lading Form and your other export forms by up to 80%. Shipping Solutions export documentation software makes it easy to create more than two dozen standard export forms. Register now for a free demo. There's absolutely no obligation.
Like what you see? Share Shipping Solutions now.
Download Now