Free Download:
Classifying Your
Products for International Trade
Are you confused by the different but similar types of product classification?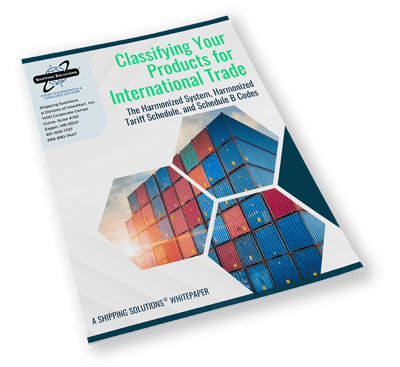 If so, you're not alone. Many new (and experienced) exporters are puzzled by the Harmonized System (HS), Harmonized Tariff Schedule (HTS) and Schedule B Codes.
Sometimes a product requires a six-digit classification code, other times a 10-digit number. Some classifications are for import, others are for export and some can be used for either. It's no wonder you're confused! This guide uses real-world examples and charts to help you understand what codes to use when.
In this whitepaper, you'll learn:
The various classification systems used globally and in the United States.
The similarities and differences between Harmonized System numbers, Harmonized Tariff Schedule numbers and Schedule B codes.
The roles and use cases of each product classification term in international trade.
It also explains Export Control Classification Numbers (ECCN) and the U.S. Munitions List (USML), the two classification types that deal with export compliance.
Finally, know that you don't have to do product classification on your own. This guide includes a number of tools that are available to help.
Like what you see? Share Shipping Solutions now.
Download Now