Not sure how to complete a commercial invoice for your exports? This PDF form includes sample data, so you can see what a completed document should look like.
About the Commercial Invoice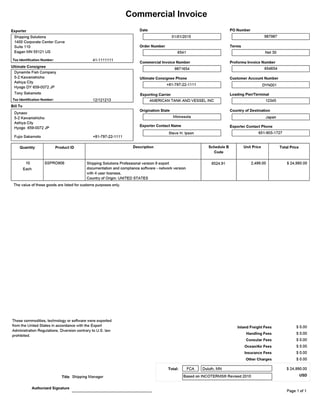 The commercial invoice is the single document that describes the entire export transaction from start to finish. It is the basis for all other export documents because it is a bill for the goods from the seller to the buyer. It is also the primary shipping document used by customs worldwide for commodity control and valuation. It's critical to include a commercial invoice in your export documents.
You can find more resources for the commercial invoice form here:
Click here to download a Commercial Invoice in English, French or Spanish.

If you are tired of trying to assemble your export documents manually, we'd love to introduce you to an easier way. With Shipping Solutions, you can complete these documents five times faster. And they'll be more accurate, too. Let us show you how it works

.