Not sure how to complete a NAFTA Certificate of Origin? This PDF form includes sample data, so you can see what a completed document should look like.
About the NAFTA Certificate of Origin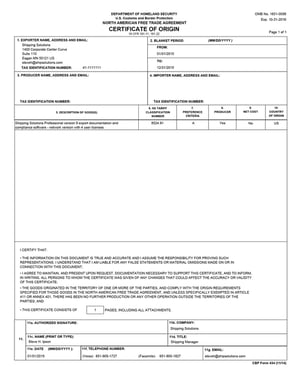 The North American Free Trade Agreement (NAFTA) allows substantial benefits for importers and exporters in Mexico, Canada and the United States for goods originating in one or more of the three nations. Before an importer can claim a reduced duty rate, the exporter declares the origin of the goods using the NAFTA Certificate of Origin.

The NAFTA Certificate of Origin:

Must be completed by the U.S. exporter.

The U.S. exporter is responsible for determining the eligibility of the goods for NAFTA treatment and for providing the importer with the certificate. The exporter is also charged with determining the appropriate Rule of Origin for the merchandise.

Must be in the possession of the Canadian or Mexican importer

at the time the declaration is made to either Canadian Customs or Mexican Customs.

Can be prepared for a single product on a one-time shipment or for multiple shipments

of identical items for a period of up to one year (Blanket Certificate).
You can find more resources for the NAFTA Certificate of Origin form here:
Download the NAFTA Certificate of Origin form in English, French or Spanish.
If you are tired of trying to assemble your export documents manually, we'd love to introduce you to an easier way. With Shipping Solutions, you can complete these documents five times faster. And they'll be more accurate, too. Let us show you how it works

.