On July 1, 2020, NAFTA was replaced by the Mexico - U.S. - Canada Agreement, also known as Tratado entre México, Estados Unidos y Canadá or T-MEC in Spanish.
What is a NAFTA Certificate of Origin (Spanish)?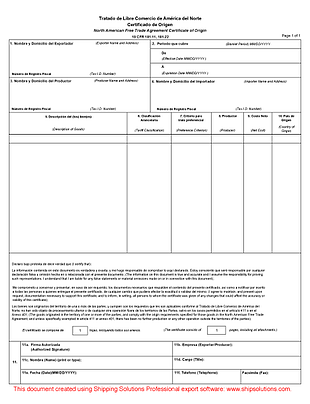 The North American Free Trade Agreement (NAFTA) allows substantial benefits for importers and exporters in Mexico, Canada, and the United States for goods originating in the three nations. These benefits of customs duty reduction and elimination depend upon an exporter's declaration of the origin of the goods, called the NAFTA Certificate of Origin.
This certificate must be completed by the U.S. exporter, and must be in the possession of the Canadian or Mexican importer at the time the declaration is made to either Canadian Customs or Mexican Customs.
The U.S. exporter is responsible for determining the eligibility of the goods for NAFTA treatment and for providing the importer with the certificate. A NAFTA Certificate of Origin may be prepared for a single product of a one-time shipment, or for multiple shipments of identical items for a period of up to one year (Blanket Certificate).
The exporter must determine the appropriate Rule of Origin for the merchandise. These eight rules are detailed in Chapter 4 of Annex 401 of the Free Trade Agreement, and cover items wholly obtained or produced in North America, having contents or components which have been sufficiently changed through production in North America, have sufficient Regional Value Content, or are listed in Annex 300 under certain Tariff Preference Levels (TPL).
Create Accurate Export Forms
Reduce the time it takes to complete the T-MEC Certificate of Origin by up to 80%. Shipping Solutions export documentation software makes it easy to create more than two dozen standard export forms. Register now for a free demo. There's absolutely no obligation.