Free Download:
NAFTA

Certificate of Origin
On July 1, 2020, NAFTA was replaced by the U.S.-Mexico-Canada Agreement (USMCA) and the new USMCA Certificate of Origin.
What is a NAFTA Certificate of Origin?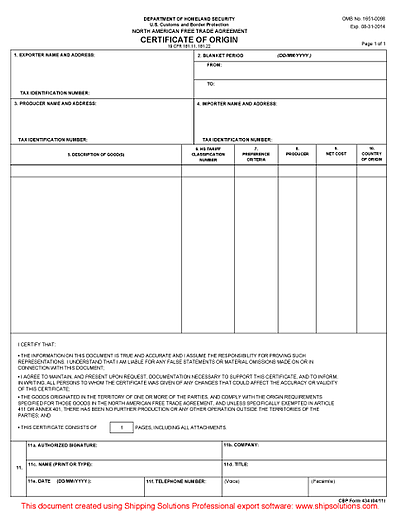 On January 1, 2008, all tariffs and quotas on U.S. exports to Mexico and Canada were eliminated under the North American Free Trade Agreement (NAFTA). To claim this preferential duty rate, you must determine if your goods qualify under the NAFTA Rules of Origin.
The exporter is responsible for filling out the NAFTA Certificate of Origin, not the importer. Once you have determined that your products qualify for NAFTA, you need to fill out a NAFTA Certificate of Origin unless the product going to Canada or Mexico is valued at less than $1,000 USD. In these cases, you can simply make a written declaration on the commercial invoice stating that the product is NAFTA-qualifying.
Once completed, you must send the original or a copy of the Certificate of Origin to the importer. It is recommended that a copy of the Certificate of Origin be included with the shipment. The exporter is required to keep all documentation of NAFTA claims for at least five years after the completion of the transaction.
Create Accurate Export Forms
Reduce the time it takes to complete the USMCA Certificate of Origin by up to 80%. Shipping Solutions export documentation software makes it easy to create more than two dozen standard export forms. Register now for a free demo. There's absolutely no obligation.
Like what you see? Share Shipping Solutions now.
Download Now