Monitor Each Step in Your
Export Process
Professional & Enterprise Versions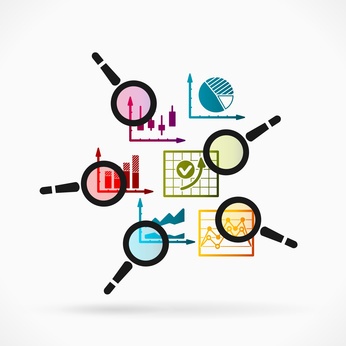 Attend a U.S. government export compliance seminar, and you'll repeatedly hear about the importance of creating a written export management and compliance plan for your company and documenting that the plan is being followed on every export shipment.
Shipping Solutions' Shipment Log allows you to enter the steps that are part of your company's compliance plan into the software. Then, on every shipment, your users can easily record who completed each step of the plan and when it was completed. That way, if you ever get audited by the Office of Export Enforcement, the FBI, or any other agency that has enforcement jurisdiction, you can quickly and easily demonstrate your company's commitment to doing your due diligence in export compliance.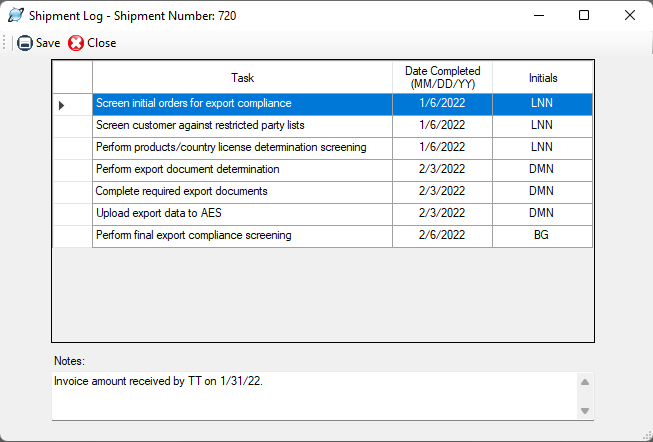 Next Steps
What our customers say about us
Shipping Solutions has been the best thing to happen to our exporting program. We are able to store unique customer data in a uniform way. No more trying to remember how to fill out every carrier's forms. No more entering and reentering information into multiple locations. Enter it once and be done. The restricted party screening is a great tool. One click and you're done. Shipping Solutions has saved us time, money and aggravation. I would recommend Shipping Solutions to anyone who exports.
Carol L. Wilson
Frontline
We are a small, but rapidly expanding company. Without Shipping Solutions Professional, we'd be lost in a sea of export orders. It helps us process and track our orders so quickly and efficiently, we don't want to be without it! Before we tried to do it all by hand, which cost us a lot of time and errors. Thanks for creating such an essential product!
Dacia Lindner
Diamon - Fusion International
Shipping Solutions is an excellent software package especially for the smaller exporter. The software is user friendly and easily adapted to individual company requirements. The online User Guide is easy to use with step-by-step illustrations of each screen. The Annual Maintenance Program provides users with the latest updates as they become available. The Customer Service Support Team is very responsive in addressing any technical questions.
Leah Kieffer
Brooks Instrument
We purchased your Shipping Solutions and are extremely happy with its capabilities. It's fast and easy to use.
Linda J. Weller
Production Control Units, Inc.