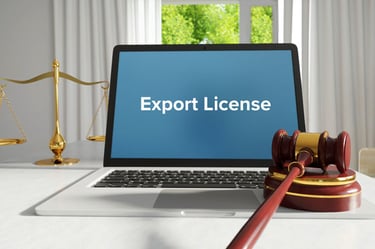 So, you've determined your goods need an export license? Good! That's a great first step toward compliance—but you've still got some work to do.
If your products fall under the jurisdiction of the Export Administration Regulations (EAR), it's time to submit an application for a license through the online Simplified Network Application Process Redesign (SNAP-R).
As you complete your application, keep an eye out for these five potential problems, which could delay your export license or even subject you to penalties, fines and civil or criminal prosecution.
1. Providing Inadequate Descriptions
If you respond inadequately to the Basic Requirements section of the application, which calls for a description of the item or items to be exported, your application may be delayed or declined. To avoid the hassle follow these tips:
Be specific about the character of the export.
Include details related to the recipient foreign nation.
State specifically the end user [name or company name] that's receiving the exported good.
Describe the intended end use of the exported merchandise.
There's rarely too much information included in an application, but vague answers or entering "unknown" can delay your application.
2. Not Including Supporting Documentation
Part 748 of the EAR details the requirements for submitting a license application, including any required support paperwork. These are typically technical brochures and specifications, and they can be attached directly as a PDF to the work item in SNAP-R.
3. Not Reviewing Your Application
The devil is in the details—and so are fines and penalties. Save yourself headache and frustration by carefully double-checking your application before you submit it. Specifically, make sure you've correctly entered all of the information required in Section II and that your letter of explanation is thorough.
4. Re-entering the Same Information in Routine Application Submissions
This won't necessarily cost you in penalties, but it will cost you time. Furthermore, if you enter the same information over and over, you're increasing your exposure to errors. You can nix redundancy and make back time by following the information provided on the SNAP-R Frequently Asked Questions web page.
5. Failing to Sign the Application
This is a basic—and a biggie. Don't forget to include your signature in the application. Your application will be nullified without it!
Because SNAP-R is an online system, you are not actually putting pen to paper. But a signature is still required by entering your name in the Signer Information box. Make sure to read the instructions and enter your name in the proper format.
Getting Assistance
If you get stuck, you can contact the BIS SNAP-R help desk by sending an email or calling (202) 482-2227. During normal, non-pandemic times, BIS also hosts training seminars in various cities across the nation.
In addition to maintaining compliance with U.S. export licensing requirements, you should continually consult the EAR for the most up-to-date information about U.S. export controls and other export licensing requirements—they can and do change!
---
This article was first published in June 2014 and has been updated to include current information, links and formatting.