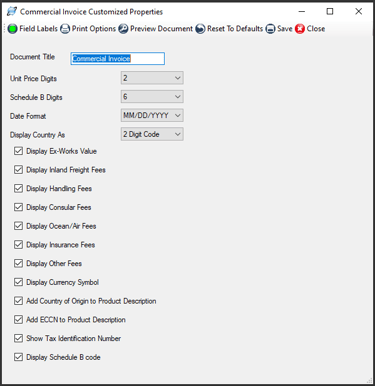 Shipping Solutions export documentation and compliance software added the ability to hide or display the Schedule B Code on the Commercial and Proforma Invoices in Version 9.15 and 8.15 of the software. If you have upgraded from a previous version of Shipping Solutions, please double-check the setting before printing your paperwork.
Most of the time, exporters will want to include the Schedule B or Harmonized System number (these codes are not the same) of their items on their Commercial and Proforma invoices. However, there are some situations where you shouldn't include HS numbers on your invoices. To accommodate all situations, an option was added to Shipping Solutions export software to allow you to display or not display the codes.
When you upgrade to version 9.15 or 8.15, you should verify that the setting is correct for your company. In Shipping Solutions, go to the Tools tab, Customize Documents screen. Click on the plus sign to expand the tree, and then select Commercial Invoice. Either check or uncheck the box that says Display Schedule B Code.
You can also specify the number of digits to display using the Schedule B Digits drop-down list. Choose between 6, 8 or 10 digits.
Click Preview Document. Confirm that the Schedule B column either appears or does not appear between the Description and Unit Price columns in your item list. If the document does not match your selection, close the Customize Documents screen, reopen it and try again.
Repeat this process for all the types of invoices (commercial and proforma), in all the languages (English, French and Spanish), and in both the regular and consolidated list that you use.
If you use HS codes rather than Schedule B codes, you can change the column heading by clicking the Field Labels button on the Customize Documents screen. Scroll down to Schedule B Code, click in the Custom Field Name column and type the label you want.
For more information, contact our office at 651-905-1727. Thank you for using Shipping Solutions!