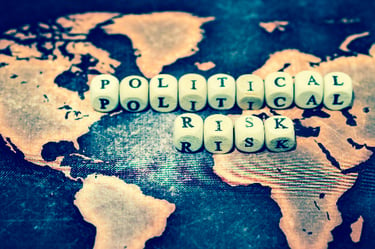 Political risk is a topic often overlooked entirely or just given a cursory glance by many small- and medium-sized companies. As firms work every day to meet payroll, compete and grow, analyzing political risk might appear better suited for a discussion in a business school class, rather than a component to add to a company's international strategy. This is short-sighted.
Charles W. L. Hill, in his outstanding book International Business: Competing in the Global Marketplace, defines political risk as "the likelihood that political forces will cause drastic changes in a country's business environment that adversely affect the profit and other goals of a business enterprise." For example, the sales office your company opened in another country that employs several local staff, the warehouse your company built in another country, or the ability to transfer funds from the host country to the U.S., might be at risk of expropriation, confiscation or domestication (sometimes called nationalization).
Through expropriation, the host government will almost always take over a company at a dollar value sure to disappoint the international business. If the host government confiscates the asset, the international business receives nothing. Domestication means the host government attempts to gain control of the asset by demanding a transfer of ownership that might or might not result in compensation.
Host governments can also take actions that damage intellectual property (patents, copyrights and trademarks). Laws protecting intellectual property (IP) are common; lack of enforcement of such laws and unequal treatment for international companies are, unfortunately, also common in some parts of the world.
Managing political risk is essential. Consistently monitoring political developments in target markets and conducting research to identify patterns—i.e., a history or propensity of expropriation, confiscation, domestication and IP infringement—is crucial. Firms can hire consulting companies to perform the research if they choose not to do so on their own. Not surprisingly, countries in which corruption is historically endemic also pose higher risks for adverse political action. Companies should visit Transparency International's website, which ranks countries by least corrupt to most corrupt. Transparency International is a well-established, non-governmental organization. Finally, the U.S. International Development Corporation (DFC), formerly the U.S. Overseas Private Investment Corp., offers political risk insurance.
Understanding political risk, analyzing and researching the risks in target markets, and managing those risks must play a prominent role in a company's international business strategy.
---
Like what you read? Subscribe today to the International Trade Blog to get the latest news and tips for exporters and importers delivered to your inbox.