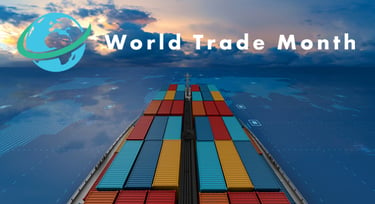 May is fast approaching, which means World Trade Month 2021 is almost here! A number of government, private and public organizations are hosting events celebrating the importance of international trade to the U.S. economy and teaching people how to begin and grow their exports.
The World Trade Month Association publishes a list of these events organized by date, location and topic to make it easy to find events in your area or available online. Register now for free email updates about these events.
World Trade Month was first celebrated in 1927 by the Los Angeles Chamber of Commerce. President Franklin Delano Roosevelt made it a national observance in 1935. (Click here for a more complete history of World Trade Month.)
World Trade Month Events
Dozens of events related to World Trade Month have already been added to the calendar, and dozens more are expected to be added before May 2021. The theme for this year's World Trade Month Association website is "Growing Exports in Uncertain Times."
This year's webinars offer practical advice on a number of international trade topics:
Updates on the current state of international trade.
A series of webinars on export and import compliance best practices.
An explanation of Incoterms 2020 and the appropriate time to use each of the 11 terms.
Identifying the proper classification of your products for exporting and importing.
An outline of programs that will help you grow your company's exports.
Creating an export contract and the required export documents.
And much more.
Organizations sponsoring World Trade Month events in May can add them to the events calendar by completing the registration form on the World Trade Month Association website. All submissions are subject to review and approval by the association. There is no charge for the listing.
World Trade Month Sponsorship Opportunities
The World Trade Month Association offers three sponsorship levels to organizations interested in supporting World Trade Month 2021. Visit the sponsorship page for more details and to request additional information.