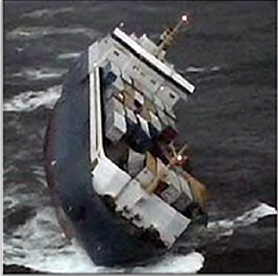 If you don't think it's important to put some real thought into how you pack your shipping containers, keep this in mind: Losses from improperly packed containers add up to $5 billion a year worldwide. In addition to the loss of your own cargo, shippers who incorrectly pack their containers are liable for damages caused to other containers and the vessel itself. Worse yet, cargo insurance doesn't cover these losses if the shipper is proven to be negligent.
In this article, I described the important things to consider before you even begin loading a shipping container. In this part of the series, I'll review the additional requirements for packing and shipping dangerous goods.
Packing Your Dangerous Goods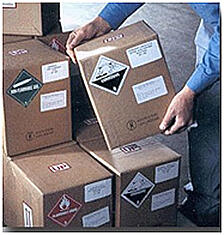 Before packing dangerous goods, Chapter 7.4 of the International Maritime Dangerous Goods (IMDG) Code and other international and national regulations require that the consignor provides transport information on each dangerous goods substance, material or article. This is usually in the form of a "declaration of dangerous goods" where the shipper is certifying that the entire consignment is in full compliance with regulatory agencies.
This statement typically reads:
SHIPPER'S DECLARATION
I hereby declare that the contents of this consignment are fully and accurately described above by the proper shipping name(s), and are classified, packaged, marked and labeled/placarded, and are in all respects in proper condition for transport according to applicable international and national government regulations.
This information should include at least the following basic items:
The UN number;
The proper shipping name (including the technical name, as applicable);
The class and/or division (and the compatibility group letter for goods of class 1);
Subsidiary risks when assigned;
The packing group when assigned;
The total quantity of dangerous goods (by volume or mass, and for explosives, the net explosive content); and
The number and kind of packages.
Before offering a container for transport, shippers should take specific care about stowing and segregating incompatible dangerous goods where the terms such as "away from" and "segregated from" need to be heeded. An example would be where a product is heat-sensitive, so storing the CTU above deck or close to the ships engines would be extremely dangerous.Depending on the classification of the goods, the regulations may require additional information such as the flashpoint of flammable liquids. The shipper must also provide any information required under the dangerous goods regulations for intermodal transport so that the appropriate documentation may be provided.
If dangerous goods are palletized or otherwise unitized, they should be packed so as to be regularly shaped with approximately vertical sides and a level top. They should be secured in a manner unlikely to damage the individual packages that comprise the unit load.
The materials used to bond a unit load together should be compatible with substances unitized and retain their efficiency when exposed to moisture, extremes of temperature, and sunlight.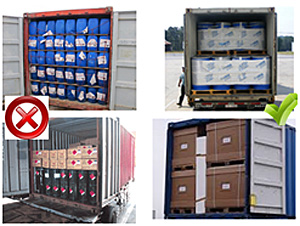 Before loading a container with dangerous goods, a shipper should understand and be ready to comply with applicable international and national regulations for packing, labeling, marking and securing dangerous goods in the CTU. When packing mixed cargo, their compatibility should be considered.
Irrespective of the regulations for stowage of dangerous goods, the following general rules are applicable:
Heavier cargo should not be stowed on top of lighter cargo. This will also help ensure that the center of gravity of the CTU won't exceed half the height of the CTU.
Heavy units should not be stowed on top of fragile parcels.
Sharp-edged pieces should not be stowed on top of units with weak surfaces.
Liquid cargo should not be stowed on solid cargo.
Dusty or dirty cargo should not be placed near clean and easily soiled cargo like foodstuff in porous packaging.
Cargo emitting moisture should not be stowed on or near cargo sensitive to moisture.
Odorous cargo should not be stowed in the vicinity of cargo that easily absorbs odor.
Incompatible cargo should be packed into the same CTU only if their stow is appropriately separated and/or the goods are effectively protected by suitable sheathing material.
There are three distinguished principles that shippers should follow when securing cargo, and they may be used individually or in combination as appropriate: (1) direct, (2) friction and (3) compacting or bundling.
Direct securing transfers the force of the cargo to the CTU by means of blockings, lashings, shores or locking devices. The capacity for securing cargo under this method is proportional to the Maximum Securing Load (MSL) of the securing devices.
Friction securing utilizes so-called tie-down or top-over lashings which, by their pretension, increase the apparent weight of the cargo and its friction against the loading ground. The effectiveness of this securing method is proportional to the pretension of the lashings. Adding an anti-slip material to the sliding surfaces also considerably increases the effect of the lashings.
Compacting cargo by bundling, strapping or wrapping it is an auxiliary method of securing cargo that should always be used in combination with direct or friction securing.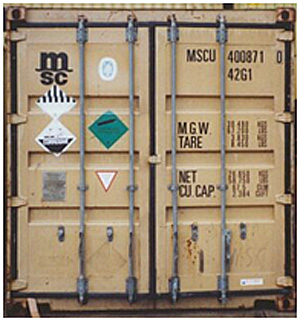 After closing a CTU, the packer should ensure that all closures are properly engaged and secured. If the doors are locked, the means of locking should be such that, in the case of emergency, they can be opened without delay. Where CTUs have hinged or detachable fittings, the shipper should check that they are properly secured with no loose equipment likely to cause a hazard during transport.
As you have seen in all three of these articles, there's a lot more to packing a container than one would assume. It's truly an art that requires a lot of science.