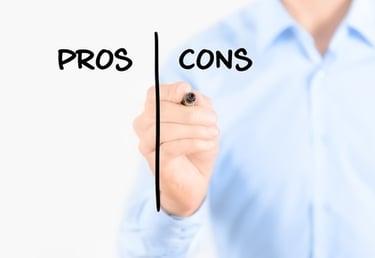 How much time are you willing to waste today?
If you think that's a ridiculous question—but you're still searching for or creating your own export form templates—this article is for you. You may be underestimating the time and effort it costs to create your own export documents.
Here is a list of pros and cons to help you decide if the do-it-yourself route is profitable, or if you'd save time, money and hassle with an off-the-shelf software product.
The Advantages of Creating Your Own Export Forms
You Know What You Need
You understand your own products; you know what type of information your international customers are asking for; and you have a relationship with your forwarders and brokers and understand what they need from you. If you can give an unwavering yes to all three requirements and you're familiar with the requirements and regulations related to each, you may find that creating your own export forms or using a template you found online is helpful.
The Forms Are Consistent with What You've Always Used
When you create your own export documents, you have ultimate control over what they look like, say and represent. You can maintain your corporate identity and stay consistent with the forms you've used in the past.
You Don't Incur an Out-of-Pocket Expense
Creating your own forms will save you money, and you can avoid a protracted buying process.
You Don't Need to Learn Anything New
If you create your own export forms, you won't have to figure out new systems, verbiage or procedures, because you'll be designing the forms based on what you already know. Since you created the forms, you understand them, and they follow the familiar pattern your colleagues already know. It can also add structure to the status quo.
The Disadvantages of Creating Your Own Export Forms
There Are Hidden Costs to Creating Forms
It's expensive (and not just monetarily) to create and manage export forms. Finding and building templates for your export forms takes time—and as all savvy exporters know, time is money. In addition to the time you spend finding or creating forms, you'll also need to spend more time proactively monitoring changing regulations so your form templates are updated as required.

Using outdated or incorrectly created templates puts your company at risk of delays in shipping, delays in getting paid and fines for violating export regulations. Studies show that 88 percent of spreadsheets have significant mistakes in them caused by human error; the more forms you try to create and manipulate individually, the more you expose yourself to the threat of error.
Your Forms May Ignore Industry Best Practices
Companies that blindly continue to use the same versions of forms they have always used or that follow processes without reviewing them put themselves at risk of being inefficient or out of compliance with customs requirements and import-export regulations.

Similarly, just because a customer asks for something on a form, doesn't mean you should put it there. Anti-boycott regulations are an excellent example.

By using forms that thousands of other exporters use for their hundreds of thousands of export shipments, the participants in your export journey will recognize the paperwork, understand what it means and know what to do with the information it includes. Your goods will arrive faster, and you'll get paid without delays.
You Lose the Advantages of a Single, Integrated System
An export documentation software program that links all forms together eliminates the need to reenter the same information over and over again. Instead of entering the same information on five different forms, you enter it once and create your forms five times faster. In addition, the information that appears on each document is consistent, which is important to customs and to banks who rely on your paperwork to release payment for shipments.

An integrated software program not only ties together the various export documents you need, but it also meets your AES-filing requirements and export compliance screenings. Because you are using the same data for each of these tasks, you save an incredible amount of time.

Finally, because all your export processes are combined in a single system, you have a clear audit trail of your export documents and compliance efforts. If you get audited by the Office of Export Enforcement or another government agency, you have a central repository of information. (You can find out more about why and how you should plan for an export compliance audit here.)
Your Templates May Not Get Updated
Many exporters contact me because the person who created their export form templates or who built the simple database for entering and creating the export forms left the company. Now there is no one who knows how to update the forms or the database. The company is left high and dry—and out of compliance—when regulations or technology change and their export forms no longer work on newer versions of Microsoft Windows.
A Better Solution for Your Export Paperwork
Don't be fooled into thinking that finding templates or creating your own export documents is easy. The costs of accuracy, management, time and upkeep make your decision more work than you bargained for. There's a better, simpler, more accurate and more cost-effective solution: Shipping Solutions.
Shipping Solutions export documentation software lets you create, print and organize your export document forms with ease. We designed the software for exporters like you because we saw the need for simple solutions for tedious processes.
Shipping Solutions will save you money and time, and it will help you maintain industry best practices by providing updates to forms whenever regulations and practices change. If you want to see how Shipping Solutions can help your company, click here to arrange a free online demo of the software.
---
This article was first published in June 2015 and has been updated to include current information, links and formatting.